What Are the Different Types of Cosmetics Jobs?
Different types of cosmetics jobs include performing makeup application services, selling cosmetics and the development and manufacturing of cosmetics. Each type of job requires different training, and in some cases, licensing. There are several personal appearance jobs that can involve applying makeup to clients, including those of makeup artist, aesthetician and cosmetologist. There are also numerous jobs involved in the sale and marketing of cosmetics, including direct sales, working in a retail store or involvement in promoting various cosmetics brands and lines. Other types of cosmetics jobs include participating in the manufacturing of makeup by doing market research or directly developing new types of cosmetics.
Perhaps the best known of various cosmetics jobs, is that of the makeup artist. Makeup artists apply makeup to clients in a variety of contexts. Some makeup artists make up the faces of individuals for special occasions, such as weddings or may teach individuals how to appropriately apply makeup to their own faces. Other makeup artist may work in the entertainment or publishing industries, applying cosmetics on the faces and bodies of models and actors. In some jurisdictions, a makeup artist must be licensed as a cosmetologist or aesthetician before practicing makeup artistry for compensation.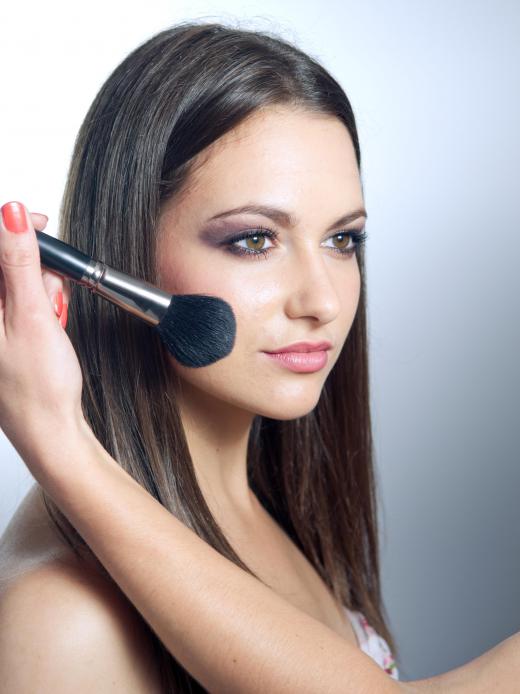 Other types of cosmetics jobs involve selling cosmetics. Many retail stores include cosmetics departments along with specially trained salespeople who can help customers in choosing cosmetics. Another option for those who would prefer to not sell cosmetics in the context of a retail store is to become a cosmetics salesperson for direct sales company. These individuals can sell cosmetics directly to family and friends on a commission basis and are not generally considered to be employees of the companies that they represent. These sales often take place in people's homes or at their office and involve a hands-on demonstration of various cosmetics and application techniques.
Other cosmetics jobs do not involve direct contact with customers or clients. Some cosmetics researchers review market data in order to understand which types of cosmetics the public is interested in and then passing along this information to cosmetic company executives. Scientists who work for these companies can then use this information to develop cosmetics that can address the specific needs and concerns of cosmetic users. The marketing department of a cosmetics manufacturer will then develop advertising campaigns in other types of consumer outreach that can motivate users to purchase and use the newly developed cosmetics.
AS FEATURED ON:
AS FEATURED ON:
By: Viktor Pravdica

A makeup artist applies blush to a woman's face.

By: studiovespa

Makeup artists may teach others how to apply makeup to their own faces.

By: Gennadiy Poznyakov

Many people sell cosmetics door to door or work at makeup counters in department stores.

By: Chris Tefme

There are many personal appearance jobs that involve applying makeup to clients.

By: Andrey Burmakin

Cosmetics managers often staff the counters of luxury cosmetics brands at high-end department stores.

By: Ariwasabi

Promotional models may work for a cosmetics company.