What Are the Different Types of Florist Jobs?
The responsibilities of those employed in florist jobs include growing plants, creating floral displays, marketing flowers and making deliveries to clients. Some florists complete undergraduate horticultural degree programs or short-term vocational training courses at local community colleges. In many instances, people employed in florist jobs are high school graduates who learn their trade through on-the-job training.
Florists sell plants to individuals and entities and in many instances, florists grow some or all of the plants that they sell. Individuals who are responsible for growing plants must have a broad knowledge of horticulture and the physical ability to plant bulbs, transfer immature plants to pots and to unload supplies of manure, seeds and other substances from supply trucks. Within a large florist store or nursery, several individuals may be tasked with growing particular types of plants. At a small floral shop, one person may be responsible for watering and feeding plants and making the decision as when the plants should be sold. People employed in these florist jobs usually need to have a greater knowledge of plants than other floral industry employees, and many have taken some kind of formal training class.
Designers arrange flowers in bouquets and decorate churches and other venues for events such as weddings and funerals. Someone employed as a floral designer must know which types of flowers bloom during certain periods of the year and how these plants fare in different kinds of environments. Designers are concerned with the both the aesthetics and the biology of plants since a certain arrangement may look colorful to begin with but it could quickly deteriorate if the flowers in the display are not suited to air-conditioned environments, humidity or certain weather conditions. In many instances, designers double as sales people since many clients prefer to buy custom made floral arrangements rather than pre-arranged displays or bouquets.
Aside from designers, many floral stores employ sales people or managers. These individuals may have college degrees in business administration but in many instances florists employ individuals who have previously worked as sales people for firms operating within other industries. The people employed in these floral jobs must be familiar with floral designs and arrangements because these individuals are responsible for securing contracts with wedding planners and other event organizers. Additionally, the business manager typically has to arrange purchase contracts with the suppliers that provide the store with plants, seeds and soil.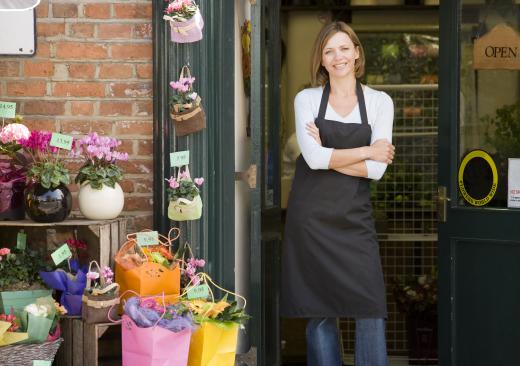 Delivery driver positions are florist jobs that require minimal levels of horticultural knowledge. Some drivers are paid tips while many are paid by the florist for each delivery that they make. Aside from having a valid drivers license and a reliable vehicle, most florists do not have any specific skill or academic requirements for delivery driver positions.
By: eyeQ

Florists can make customized flower bouquets for special occasions.

By: neirfy

Florists can help pick out the right flower for any occasion.

By: sbgoodwin

Retail florists sell flowers that can be planted in gardens.

By: gemphotography

Florists may operate their own storefront.

By: Monkey Business

A florist who runs her own shop needs to have both creative and financial skills.