What Are the Different Types of Service Industry Jobs?
The service industry is composed of businesses and individuals that market a wide variety of services to consumers and commercial enterprises. People employed in service industry jobs include workers in the travel industry and hospitality workers. Financial professionals, communications firm employees and various others who generate money without selling actual products all fall into this group as well. Both entry-level workers and highly skilled workers can find jobs within the industry and the pay levels vary greatly between different roles.
People employed in service industry jobs in the transportation sector include train drivers, ticket collectors, airline stewards and pilots. These individuals are tasked with ensuring that clients travel safely one from location to another. Meanwhile, behind-the-scenes mechanics, engineers and air traffic controllers are tasked with ensuring that transportation systems function efficiently and safely. Transportation firms also employ large numbers of sales people and customer service clerks and these individuals are responsible for selling tickets and catering to passenger's needs.
The hospitality sector includes establishments that provide consumers with food, beverages and accommodation such as restaurants, bars and hotels. Servers and bartenders work in all of these establishments and these front line employees often receive the majority of their wages in the form of tips. While these individuals actually deliver food and drinks to clients, many hospitality workers are employed in behind-the-scenes service industry jobs and these roles include chefs, purchasing managers, cleaners and customer service clerks. Purchasing managers order supplies for a particular facility while clerks accept reservations and attempt to resolve customer's complaints; typically, hospitality venues are overseen by a manager who hires and fires staff while also ensuring that the location creates a profit.
Bankers, insurance agents, mortgages brokers and real estate agents are also employed in service industry jobs. These professionals attempt to provide financial solutions for client's issues and advise individuals and business owners on making big purchases or investment decisions. Likewise, attorneys and accountants are licensed professionals who provide people with legal or tax advice. People engaged in other types of service roles include plumbers, electricians and couriers, all of whom perform tasks rather than selling tangible products.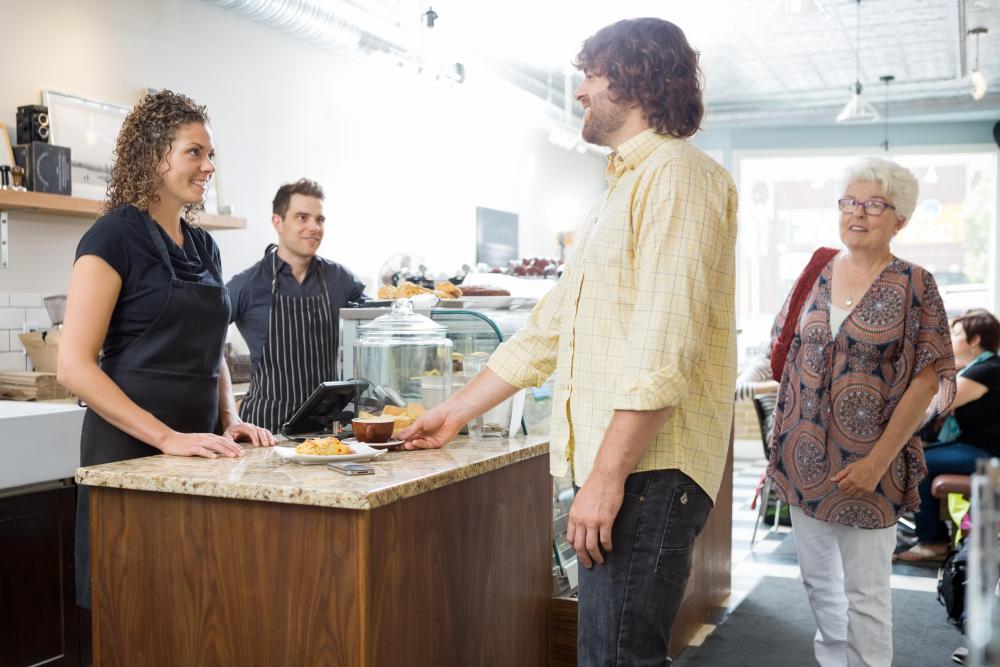 Workers in sales positions or customer service roles are often entry-level employees while those employed in management positions across the service industry as a whole are usually college graduates. People who work as attorneys, physicians, engineers and accountants are among the types of service industry workers who must complete college and industry licensing courses. Typically, those with the best academic and professional credentials tend to be the most highly compensated although people in some entry-level sales roles can generate significant amounts of income if they exceed their revenue goals.
By: Lulu Berlu

Bartending is a service-oriented job.

By: Richard J Thompson

Train drivers are employed in the service industry.

By: Evgeny Litvinov

A chef holds a service industry job in the hospitality sector.

By: omicron

A hotel guest service agent is often responsible for checking guests in and out of the hotel.

By: Tyler Olson

Customer service jobs are typically entry-level positions.