What Are the Different Types of Zoo Career Opportunities?
Running a zoo takes the work of many different professionals. Zoo career opportunities include jobs working with animals, such as veterinarians and zookeepers. Also included are positions working with people, such as event and program coordinators and tour guides. Facilities professionals, food service workers and business professionals are also key.
Obviously, the main attractions of a zoo are the animals. This means that, when most people think of zoo career opportunities, animal care positions are the first that come to mind. Veterinarians maintain the health of animals and may work directly for a zoo or in a private practice under contract with the facility. Zookeepers and their assistants take care of the animals on a daily basis and are responsible for feeding the animals and ensuring that they have everything they need.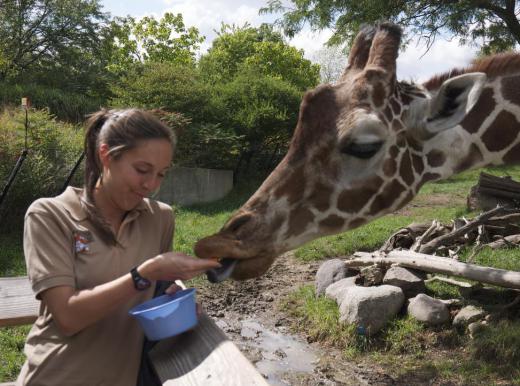 Zoo career opportunities are also available for those who like working with people. Gate attendants take payments and issue tickets and passes, tour guides show groups around the zoo and presenters give demonstrations that may or may not involve the zoo animals. Program and event coordinators specialize in managing the program schedule for presentations and in arranging special events, either for the public or for specific groups.
Like any large facility, a zoo must be maintained. This means that zoo career opportunities extend to janitorial and maintenance personnel as well as craft persons, such as plumbers and electricians. Many zoos also maintain natural habitats for the animals, so landscapers and arborists are often needed. Security personnel are also critical.
Food service and retail workers can also find zoo career opportunities. Many zoos offer restaurants and food stands that require cooks, servers and cashiers. Gift shops require sales clerks, stock clerks and cash handlers.
It is also important to remember that a zoo is a business, even if it is a non-profit business. This means that some of the most plentiful zoo career opportunities are in the business office. Depending on the profit status, sales people or fundraising professionals, or a combination of the two, are responsible for ensuring an income for the zoo. Marketing professionals advertise and promote the zoo and often work in close conjunction with special event staff.
As with any other business, administrative assistants, receptionists and management professionals also are needed to help run a zoo. Likewise, accountants and accounting clerks must balance the books, pay the bills and file tax forms. Additionally, human resources professionals are required to recruit and hire employees for the many zoo career opportunities available.
AS FEATURED ON:
AS FEATURED ON:
By: davitydave

Zookeepers take care of animals at the zoo.

By: hitdelight

Zoo conservationists might promote awareness about endangered species to visitors.