What Does a Bonesetter Do?
A bonesetter manipulates bones to address musculoskeletal disorders, including fractures and dislocations. Traditional bonesetting is an example of lay medical practice, where people do not receive formal training and certification to work. In many regions of the world, it has been replaced by more formalized medical traditions. Some regions still maintain a culture of training and using bonesetters, particularly in the developing world.
The origins of this practice are ancient. Ancient China, Greece, and Egypt all incorporated bonesetters into their medical traditions, as documented in a variety of works of art and scholarship from these cultures. Similar traditions can be seen in parts of Latin America. A bonesetter historically learned the practice from a family member or was apprenticed to a working practitioner.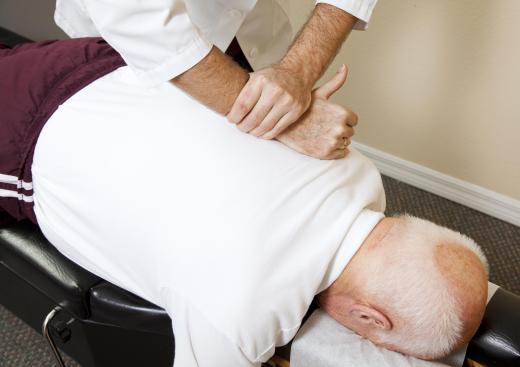 In Europe in the middle ages, a more formal bonesetter's guild developed. Apprentices were required to complete a set amount of training under supervision in order to work. They could perform spinal adjustments, evaluate people with bone disorders, and treat people with injuries like fractures. Apprentices did not, however, have full privileges as surgeons or physicians, two separate guilds at the time.
With advances in medicine, this practice has become obsolete in many regions of the world. Patients who are interested in manipulative therapy may see a chiropractor, massage therapist, or osteopathic doctor. Fractures and dislocations are typically treated by an orthopedic surgeon or general practitioner. These practices are regulated, and include training requirements to reduce the risk of complications for the patient; fractures, for example, must be carefully managed to reduce the risk of infection and nerve damage.
Remote communities and some areas in developing nations may use a bonesetter for basic medical needs related to the musculoskeletal system. The level of training and experience a bonesetter has may vary. Some participate in programs sponsored by the government and various agencies to improve the quality of care they can offer through training in topics like basic infection control and fracture management. Others may have poor patient outcomes because of limited understanding and experience.
Apprentices may learn under an experienced bonesetter, attending patients and gradually performing procedures under supervision, or they may be self-taught. In some communities, bonesetting may be tied with traditional religious and cultural practices, and can be maintained as a practice of cultural value. Some people may turn to these lay practitioners for health services, while others may prefer to use providers with more experience and training.
AS FEATURED ON:
AS FEATURED ON:
By: Lisa F. Young

Chiropractic care is a modern version of the ancient practice of bone setting.

By: Fotoluminate LLC

Today, most fractures are treated by orthopedic surgeon or general practitioner.

By: Tandem

Manipulative therapy may be practiced by a message therapist.