What Does a Cabana Boy Do?
A cabana boy performs a range of general personal service duties related to increasing the comfort of guests at hotels, spas, and beach resorts. Some wealthy individuals may also hire cabana boys to provide services on their privately owned beaches or at their homes. The specific job description, however, will vary depending on location and the individual employer. The terms pool attendant or pool boy might also be used interchangeably to refer to a cabana boy. Although the job descriptions often share many similarities, there may be some differences in job duties.
Generally, cabana boys are required to perform a broad range of customer service duties. Typically when considering applicants, hotels and resorts are looking for young men who are easily able to engage all types of people. Regular job duties usually include greeting and interacting with customers to determine what their needs are and fetching towels, snacks, and drink. This might also mean applying suntan lotion or spraying down patrons with water to help them cool off.
At some resorts, the employee might be required to help guest check in or reserve seating areas for frequent visitors. The employee may also perform cleaning duties, such as cleaning bathrooms, emptying trashcans, and wiping off furniture. In the most exclusive locations, the employee may not serve all of the patrons at the resort, but may only be assigned to a few elite clients to anticipate their needs and maximize their experience.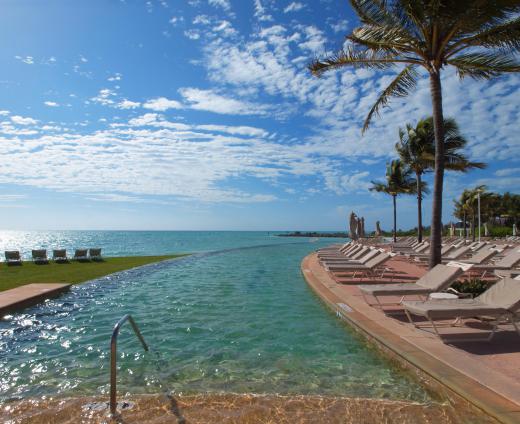 The job description for those working in privately owned homes will typically differ based on the number of other employees within the home and the needs of the family. For instance, the cabana boy may be asked to take on the typical duties of a bartender and make elaborate drinks. When monitoring people at pools instead of beaches, the pool boy may also have to clean debris from the pool and maintain pool equipment to keep it in top working order.
On average, a cabana boy is a young adult male, usually in his 20s. Sometimes cabana boys are seen as nothing but eye candy, dressed only in a skimpy bathing suit to show off their well-toned bodies. The young age of the males, however, can also be attributed to the high amount of physical fitness required to perform the job duties. Employees need to have a strong back and arms to hoist and set up heavy umbrellas and other beach equipment. Frequent kneeling, lifting, and walking are normally a part of the job description, as is being able to work under extreme temperature conditions.
AS FEATURED ON:
AS FEATURED ON:
By: caimacanul

A cabana boy sometimes applies suntan lotion for customers.

By: pr2is

A cabana boy may keep the pool and pool area clean from debris.

By: Harry HU

Many upscale beachfront resorts hire cabana boys to cater to guests.

By: Hoda Bogdan

A cabana boy may have to perform the usual duties of a bartender.

By: Eric Hatchell

A cabana boy may perform duties related to increasing comfort of guests at spas.