What Does a Calibration Engineer Do?
A calibration engineer monitors, repairs, and adjusts mechanical or electronic systems within a specified value range. Many industries use the talents of this type of engineer, including the automotive, electronics, and appliance industries. Improperly calibrated products result in poor device functionality and unhappy customers.
Automotive calibration engineers work mainly with the emissions and fuel economy portions of the vehicle. Many states within the United States are extremely strict about vehicle emissions affecting the surrounding neighborhoods. As a result, the calibration engineer must make sure that each manufactured vehicle produces emissions that are within the state's acceptable values. Any deviation from the specified values should be noted by the engineer as the vehicle is pulled from the testing area to be repaired.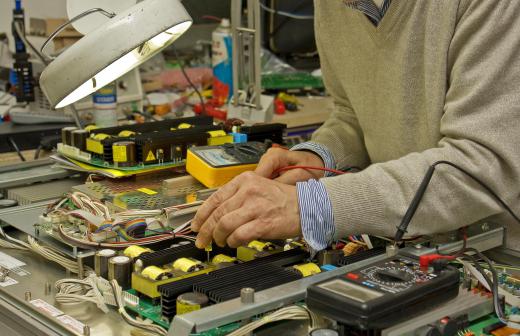 Fuel economy is an important selling point for vehicle manufacturers. The calibration engineer must test the vehicle to match the true fuel consumption with the advertised value. Any vehicles out of calibration must be adjusted or repaired before it can be released to the public.
Electronics, such as measuring devices, require calibration as well. Many consumers use laser meters for measuring distances, such as for home improvement. The displayed value must be within a certain range, as specified by the manufacturer. The calibration engineer must test and adjust the product to a specified accuracy range.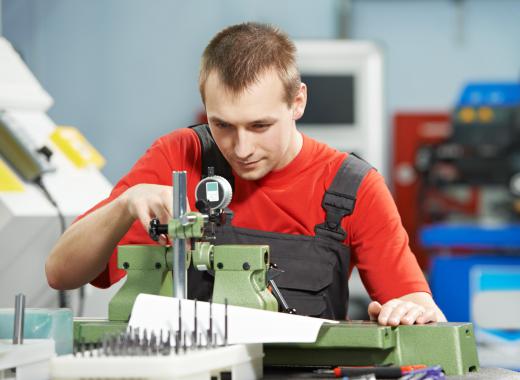 In addition to electronic calibration, calibration engineers may perform drop tests on products to verify that the device can withstand reasonable impacts while retaining accuracy. Real life use of an electronic may include accidental drops to concrete or grass by the consumer. The engineer can determine if the device should return to the designers if it cannot endure small drops.
Appliances, such as refrigerators, must function within calibrated parameters to save energy and cool food to the specified temperature. For example, the calibration engineer will test each refrigerator temperature switch to make sure it is functioning correctly and cools to the desired value. Improperly adjusted switches can result in freezing temperatures within the refrigerator portion, causing high electrical costs from a constantly running appliance. In contrast, a switch that does not activate the cooling mechanism at all or infrequently will result in spoiled food from a warm interior.
Some engineers in this field have two-year college degrees, along with hands-on experience. Many industries with intricate calibration needs may require these engineers to have a four-year college degree. The degree earned normally reflects the intended career industry, such as engineering or even mathematics.
AS FEATURED ON:
AS FEATURED ON:
By: Sergio Di Giovanni

Calibration engineers need to know how to run a number of diagnostic and calibration tests.

By: Kadmy

A calibration engineer is tasked with ensuring all mechanical and electrical systems in a manufacturing facility fall within a specific, expected range.

By: science photo

Some engineers may calibrate lab equipment.

By: Maurizio Targhetta

Some calibration engineers may monitor, repair and adjust computer numerical controlled industrial machinery.