What Does a Chef De Cuisine Do?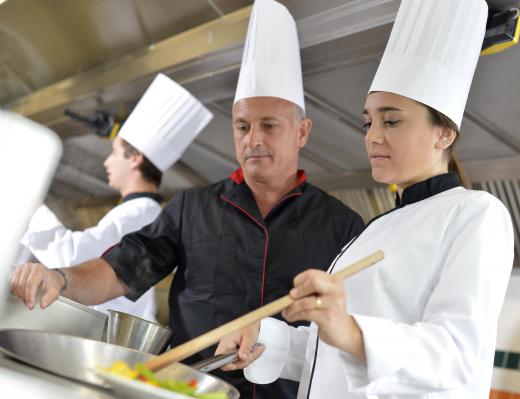 A chef is a professional who prepares meals for a living. A chef de cuisine is the head chef or managing chef in a restaurant, resort or other food service facility. He is generally responsible for managing the other chefs and kitchen employees. He is also usually responsible for creating and preparing the menu; determining nightly specials; and if applicable, setting the menu for special events or meals. It is not unusual for the chef de cuisine to be the owner of a restaurant.
As with many professions, there are levels within the chef career path. Entry levels include line cooks, sous chefs and expediters. The chef de cuisine is the pinnacle of the kitchen staff. Sometimes an executive chef supports this senior professional, particularly if he owns or manages more than one restaurant.
The chef de cuisine usually sets the atmosphere and decor in the restaurant. He may create the marketing and advertising plan as well, or might hire a business manager to do this. Although he may be responsible for hiring the servers, bartenders and other non-kitchen staff, a front-of-house manager is frequently employed to manage the day-to-day operations outside the kitchen.
When it comes to the kitchen operations, however, the chef de cuisine is intimately involved in the decisions and processes. He will select and purchase all the kitchen equipment and will hire and train all of the kitchen staff. He will set the regular menu and determine all the preparation processes and recipes. If the restaurant holds special events, such as for holidays, he will design special menus for these events as well.
A chef de cuisine either places food orders himself or delegates this duty to someone he trusts. He is usually present in the kitchen and oversees all cooking activities. Depending on the size and nature of the restaurant and his own preferences, he may or may not actively cook on a regular basis.
In some cases, chefs de cuisine may have a variety of other duties and opportunities. Most television chefs, for instance, are chefs de cuisine — or have been at some point. Many also write and publish cookbooks, which they must then publicize through a variety of means. Others create lines of cooking equipment or dishware, or lend their names to such lines. Some also serve as consultants, developing menus and training kitchen staff for those who wish to open restaurants but don't have the kitchen experience to do so.
By: goodluz

A chef de cuisine oversees all cooking and other processes in a restaurant's kitchen.