What Does a Chief Creative Officer Do?
A chief creative officer (CCO) directs a company's creative output, developing the artistic design strategy that defines the company's brand. The person who holds this position typically exerts internal and external artistic control. Internally, he shapes the look and feel of his company's distinctive style. Externally, he controls the artistic vision and cohesiveness that is sold to clients.
CCOs, also called creative directors or lead designers, are typically employed by companies whose product is some type of artistic or creative output. Advertising firms will ordinarily have a chief creative officer instead of a generic head of marketing. Firms that specialize in marketing, such as an event marketer, will call the head of the creative staff a CCO. Functionally, these sorts of shops often divide their workforce into creative staff on one side and account management, sales, and operations on the other.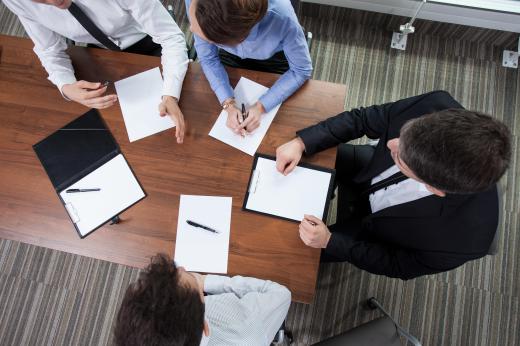 The chief creative officer in this sort of bifurcated system has significant authority and reports directly to the chief executive officer (CEO). In some instances, such as with smaller shops and firms that were started as partnerships, the CCO and the CEO manage jointly. The CCO handles everything artistic and the CEO handles everything else.
Functionally, the chief creative officer ensures the firm has a recognizable artistic style that distinguishes it from its competitors. He sets the standards for everything from the typeface to be used with the firm's marketing materials to the consistent application of the right colors for the firm's logos. Staff looks to him for guidance on everything from the design of the website to the decorations at the firm's press parties. The firm itself is treated as a product, and the CCO is the brand strategist.
The CCO also controls the artistic design of the product that is delivered to clients. He manages the staff's response to the client's expressed wants and needs. For example, an event marketing firm not only sells the ability to organize and manage an event with a certain level of participation, it also sells its ability to design the event so that it will look and feel artistically distinct from competing events. The chief creative officer manages his staff to present an artistic vision of the event that is at least as important as what will happen at the event.
An advertising firm operates along the same dichotomy. Advertisements present a certain memorable artistic design while also structured to accomplish functional goals. The CCO ensures that the design and functionality combine harmoniously so the firm can present a product that successfully represents its creative brand.
How to Become a Chief Creative Officer
As the highest-ranking position in a company's creative department, Chief Creative Officers need to have a particular skill set in order to effectively maneuver a company's creative output. That means you'll need to have the education, experience, and knowledge necessary to design and effectively execute a brand's image.
But what kind of education, experience, and knowledge are the most beneficial if you want to land a job as a Chief Creative Officer?
Education
No matter what company you choose to apply for, all Chief Creative Officers need to meet specific educational requirements to be considered for a position. Therefore, if you think a career as a Chief Creator Officer is in your future, you should carefully consider what academic path you choose to take.
Most Chief Creative Officers have Bachelor's degrees, and a fair number also have Master's degrees. Depending on which company you're applying for, one or both of these will likely be a requirement.
When deciding on an undergraduate or graduate program, you can look at degrees in business, fine arts, marketing, graphic design, communications, or another outward-facing field. Because so much of your job will be based on creative concepts, a background in some form of art education, whether it's a major or minor, will be very helpful.
If you've already completed your education and didn't get a degree in one of the fields listed above, focus on building up work experience that will compensate for that.
Work Experience
The type of work experience a Chief Creative Officer candidate needs will likely depend on the industry. A background in business, particularly in management or leadership, will be the most beneficial. Marketing is another area that can boost a Chief Creative Officer's resume, considering the type of work you'll be doing.
If you've worked in any art field, you'll also have a leg up when you apply for a Chief Creative Officer position. So much of a company's creative output is artistic in nature, so experience or education in the arts will give you an eye for design that others simply won't have. From marketing campaigns to artwork, having a background in art is an excellent quality in a Chief Creative Officer.
In addition, any position in which you worked closely with your staff will demonstrate your interpersonal skills. Most companies will also want you to have at least three years of experience in the industry.
Other Useful Skills
Extensive work experience and a good education are two of the main factors companies will look at when choosing interview candidates. However, those aren't the only things that will inform their decisions on who to hire. Although well-rounded experience and education are essential, you'll also need to have other qualities in your skillset to be effective at your job.
Some other specific skills companies might look for fall into the following categories:
Project management 
Brand development
Working knowledge of branding and marketing strategies
Strong communication skills
Ability to multitask effectively
Ability to turn ideas into reality
Take-charge attitude
Offer unique approaches to branding, marketing, and problem-solving
Willingness to work long hours
When combined with the appropriate work experience and education, these skills and many others will go a long way in helping you get a job as a Chief Creative Officer. If you didn't receive a degree in business or a related field, you should focus your career on building up skills that will make you just as marketable.
How Much Does a Chief Creative Officer Make
A Chief Creative Officer's salary will depend on your field, experience, location, and educational background. It's likely a benefits package will be part of your salary, too.
Salary
The salary range for Chief Creative Officers is quite broad. On average, you could expect to earn anywhere from about $80,000 to $99,000 in your first Chief Creative Officer position.
A more experienced candidate could get upwards of $465,000, depending on the company they work for. On average, though, a Chief Creative Officer receives approximately $213,000 per year.
Benefits and Other Factors
That said, the other part of a Chief Creative Officer's salary has to do with benefits, bonuses, and other perks. Many Chief Officers receive end-of-year bonuses for a job well done, especially in Fortune 500 or other large companies. You might also have a hefty benefits package including health insurance, 401K, and other investment options.
Some companies also offer enticing PTO and scheduling benefits. These benefits could include flexible scheduling, work-from-home options, travel opportunities, paid family leave, and a healthy PTO package.
AS FEATURED ON:
AS FEATURED ON:
By: Photographee.eu

The chief creative officer typically has both internal and external artistic control over the company's brand.