What does a Concert Promoter do?
Concerts and other musical events require a great deal of behind the scenes planning to put on. Many people come together to organize and set up the event before the actual show. A concert promoter is the person responsible for many of the marketing and organizational aspects of a musical performance.
A concert promoter may work for bands or for venues. Promoters who work for bands need to find locations for the band to play in addition to promoting the gig once it is booked. Concert promoters who work for music venues are required to find bands to play at the location. Making sure the venue is a good match for the music group or artist in question is an important part of the promoter's job.
Once a concert date is confirmed, the promoter is responsible for generating interest in the event. On a small scale, this may be achieved by posting fliers, placing ads in free or inexpensive publications, and generating buzz online. Promoters with larger budgets at their disposal may purchase radio ads as well as ads in larger print publications and on established websites.
Promoters also generate awareness of a show or event through public relations initiatives. Concert promoters tend to have a network of music industry contacts that they use to spread the word about upcoming shows. Interviews with artists and promotional giveaways are two widely used promotional tools.
A concert promoter is responsible for other aspects of the concert aside from generating interest. The promoter often handles security, ticket sales or cover charges, venue decoration, setup, sound, lighting, and staffing. To keep up with all of the different tasks, a concert promoter needs to be very organized and able to handle many projects at a time.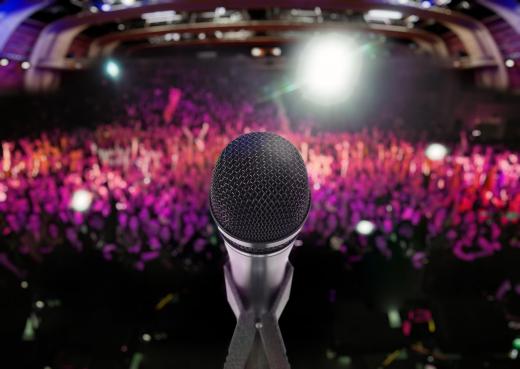 There are two common ways to get started in promoting concerts. The first is to work for an established concert promoter. Working for someone who knows the business takes away some of the initial risk and is a good way to learn the ropes of concert promotion. The drawbacks of working for someone else are less autonomy, having to do things someone else's way, and a limit on earning potential.
It is also possible to begin a career as a concert promoter simply by going out and starting to promote. Starting small is usually the easiest way to do this. Check with local bands and start with smaller venues or house parties. After organizing a few successful events, a promoter can to grow to larger concerts with more popular artists.
AS FEATURED ON:
AS FEATURED ON:
By: Moreno Novello

A concert promoter is responsible for finding locations for bands to play.

By: Sandor Jackal

Many artists make their money by selling merchandise to their fans at their shows with the help of a concert promoter.

By: Andrei Tsalko

Once a concert date is booked, promoters are responsible for generating interest in the event.

By: WavebreakmediaMicro

Concert promoters use social media and other online channels to encourage attendance.

By: SolisImages

Concert promoters generate buzz online for upcoming shows.

Tickets to concerts may be offered during a promotional giveaway.

By: florinoprea

Some concert promoters work for an amphitheater or other venue.