What does a Customer Service Advisor do?
A customer service advisor is an employee whose primary responsibilities relate to the handling of customer questions, concerns, and complaints. Customer service advisor jobs are common in the retail and telecommunication sectors. Some customer service representatives interact with customers face-to-face, and others speak to customers over the telephone, via email, or through other electronic means.
Customer service advisors begin their employment at company orientation. The orientation involves employees learning about the products and services offered by the firm. Basic job expectations about the levels of customer service that management expect customer service advisors to exhibit are clearly laid out during training. Many companies use role playing classes, during which employees have a chance to practice interacting with customers. Some firms require managers to regularly assess customer service employees to ensure they are providing levels of service expected by the company.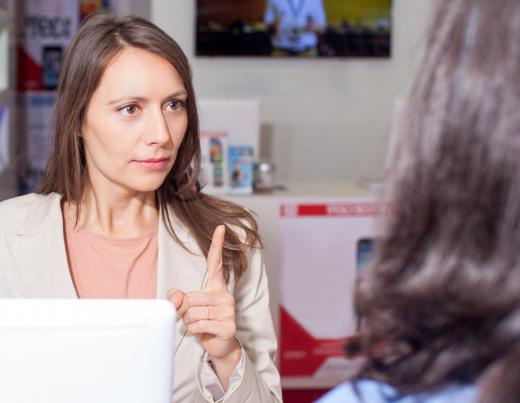 Customers who wish to make formal complaints about products and services are normally referred to the customer service advisor. This employee attempts to gain an understanding of the customer's issue. Legitimate complaints are investigated and the customer service advisor acts as a liaison between the customer and the company as the problem is addressed. Customer complaints are often assigned case numbers that are used to track the progress of each case. When the problem has been resolved, the customer service advisor has to contact the customer, explain the resolution and, if necessary, arrange some form of compensation.
Telecommunications companies and other service providers recruit customer service advisors who are tasked with helping customers deal with technical problems. Service representatives receive basic technical training and attempt to help customers resolve minor problems over the phone. Complex issues that the advisor cannot handle are transferred to specialist technical staff for resolution.
Travel companies, banks, and big retailers often employ customer service advisors to meet and greet customers. The advisors distribute company sales literature, discount coupons, and other information. Service representatives are expected to make customers feel welcome by exuding friendliness and offering to assist anyone who seems to be in need of special help. The presence of customer sales advisors frees up other employees to concentrate on other tasks, such as sales or inventory management.
Experienced customer service advisors are able to apply for senior advisor or management positions. People occupying these positions are responsible for the recruitment, training, and management of customer service staff. Customer service employees are able to move between industries because the basic job functions are largely similar.
By: Jeanette Dietl

A customer service advisor is responsible for handling customer complaints.

By: xalanx

Customer service advisors may have to deal with frustrated customers.

By: Adam Gregor

A customer service advisor may be responsible for handling customer complaints.

By: Kadmy

A customer service advisor may be tasked with explaining the terms of an extended warranty to a customer.