What Does a Customer Service Cashier Do?
A customer service cashier accurately processes sales and provides a high level of service to customers at the same time. Types of people looked for this kind of position have great personalities that can easily tune into the needs of the customer. They also need to possess some salesmanship skills, have familiarity with different cash register and related systems, and have strong counting skills.
Exactly what a customer service cashier will do depends on the place he or she works. The above description applies to most people who take on this role, but there may be other jobs that are just as important. These cashiers may be responsible for handling returns and customer complaints about merchandise. They also could give advice on how to locate things in a store or they could call in managers or supervisors when a customer has a problem. When no one is making purchases, some employees work on the floors actively assisting customers, and others might perform back office work, take phone calls, or stock merchandise.
The emphasis on serving customers as a customer service cashier cannot be overstated. In some retail locations, these employees have the most direct contact with customers. Attitude toward customers can make or break a store's reputation.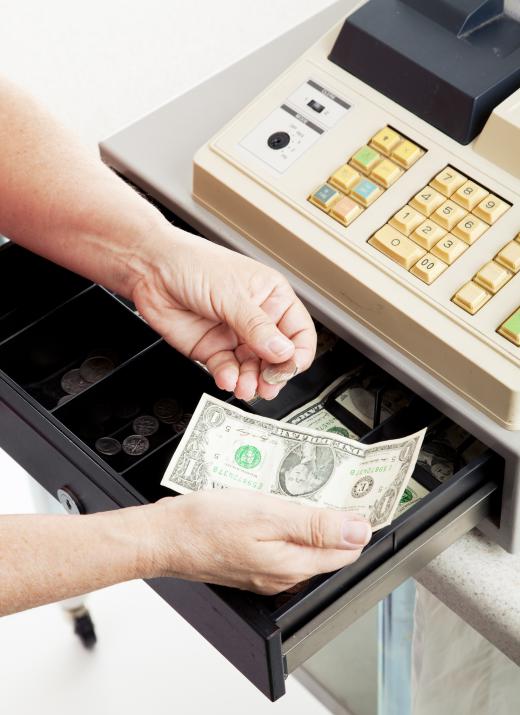 The best cashiers exude friendliness and a desire to be helpful to make customers feel as though they are being respected and valued. When this element is lacking, stores can easily lose their customer base. There are so few things sold that are unique that it's easy for the customer to simply shop elsewhere in the future.
Just as customer service plays a vital role, cash register knowledge and skill in counting change are important too. These cashiers must move quickly so that customers are not kept waiting. Familiarity with register systems, scanning apparatus, and approval systems for checks, credit cards and ATMs are valuable so that the customer service cashier can quickly ring up a sale and send the customer home in a minimum amount of time.
What can make ringing up sales a little more challenging is the cashier may need to suggest other items that go with items or services being purchased. A cashier may encourage the customer to apply for store credit cards, suggest purchasing warranties with products, or for purchasing other things in the store that are part of a grouped set. Cashiers may have a quota for selling extra items, which can sometimes result in pressure on the customer to buy more, and at the same time, discomfort from everyone else waiting to make purchases. Finding the delicate balance of selling without pressure and doing it swiftly to avoid making other customers wait is a challenging matter.
People can find customer service cashier positions at a variety of retail locations. They tend not to require advanced education. People most likely to succeed in this area of retail have sparkling personalities and are detail-oriented.
AS FEATURED ON:
AS FEATURED ON:
By: Lisa F. Young

A customer service cashier makes change for a customer.

By: Andres Rodriguez

Having a positive attitude and good communication skills are necessary to be a great customer service cashier.

By: Kadmy

A customer service cashier often handles customer questions or complaints in addition to standard cashier duties.

By: Tyler Olson

A customer service cashier presents a friendly face to customers.

By: Kenishirotie

A customer service cashier may assist in tracking sales in order to determine supply and demand in a retail setting.