What does a Fashion Consultant do?
Fashion consultants usually have many different day-to-day duties, but in most cases these sorts of professionals specialize in wardrobe improvement. They typically help clients make clothing style choices appropriate to a variety of situations, including personal and business settings, and often make recommendations on accessories, too. Depending on the specifics of a given situation, this person might also help clients with things like closet organization, and may take charge of things like shopping and new purchases. In other circumstances he or she might lead seminars for groups looking at strategies for finding appropriate and effective outfits. Though the job can vary from place to place and person to person, careers in this field usually focus on the integration of clothing and individual style.
Help Choosing Clothes
One of the most basic tasks of anyone in this field is helping clients select and assemble outfits. People often hire consultants to help manage or update their personal wardrobe. The client may need timeless, basic apparel to be mixed and matched or trendy accessories to update his or her style, and organizing this is usually the fashion expert's job. There are a variety of ways of approaching this. A consultant could help organize closets by discarding worn or outdated clothing, for instance, or could supplement an existing wardrobe with new clothes.
Many help clients actually shop for new clothing, too. The fashion consultant may set ground rules for the client to follow, accompany the client to stores, or shop for the client separately. When shopping separately, he or she often acts as something of a "personal shopper," purchasing new clothes designed to last for an entire season or to complete a certain look.
Overall Image Enhancement
These consultants typically offer expertise on more than just clothing, and they often help clients to choose flattering hairstyles, makeup, jewelry, facial hair grooming, and eyewear as well. Some may also emphasize a comprehensive fashion design, or overall style, for their clients. They may try to enhance a client's self-esteem by helping him or her feel both comfortable and confident in the new wardrobe.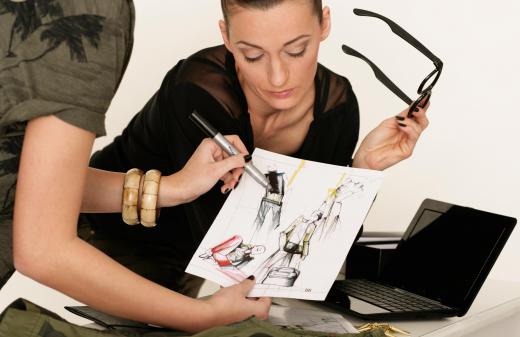 General advice about things like color choices might also be part of the consultation. Professionals may help a client to determine a color palette that is attractive with his or her skin tone and personal tastes, for instance. Choosing clothing based on color psychology can also help a client make a good impression through clothing. For example, blue symbolizes loyalty to some people, so a consultant will often suggest that clients wear blue for a job interview or other important meeting.
Work With Individuals
There are normally a wide range of possible career paths for people with this sort of expertise. One of the most common jobs is as an individual consultant, which mostly involves working one-on-one with single clients. Professionals in this role typically spend a lot of time getting to know their clients in terms of taste, lifestyle, and preferences, then they work essentially as an advocate for that one person. Sometimes people hire consultants to update their entire style, or they may be looking for advice about one specific thing, like how to dress for an interview or a new job. These sorts of consultants are often independent, which means that they work for themselves; they can also be part of fashion consulting firms. Some department stores and clothing retailers will also hire these sorts of people to help shoppers.
Work With Groups
In many places there is also a need for more group-oriented fashion consulting. People in this realm often host seminars or put together workshops for larger groups of people. In these settings they typically present general tips and tricks that individual participants can go home and adapt to their own lives. Fashion presentations are sometimes open to the public, but they might also be designed specifically for people in a certain industry, and are often sponsored by employers. If an employer is concerned that employees are dressing too casually for work, for example, it may hire a consultant to educate the employees on proper professional dress, which can happen either as a larger presentation or as individual fashion counseling sessions.
AS FEATURED ON:
AS FEATURED ON:
By: Andrey Kiselev

Fashion consultants select clothes styles that will enhance the image of their client.

By: yamix

Fashion consultants can offer services such as closet organization.

By: PhotoSG

Fashion consulting is a service related to buying and coordinating outfits.

By: Peter Atkins

Fashion consultants may suggest flattering styles for clients.

By: Wrangler

Fashion consultants help clients select and assemble appropriate outfits, or update a wardrobe.