What does a Food Scientist do?
A food scientist performs research, conducts experiments, oversees clinical trials, and inspects finished food products. He or she is essential in the creation of safer foods, better preservatives, and more efficient food processing techniques. Professionals usually specialize in a certain area of food science, such as inventing new products, improving manufacturing and packaging strategies, or studying illnesses related to food. Most food scientists work for food processing plants, private research and development laboratories, universities, and government organizations.
Consumers depend on knowledgeable scientists and quality control workers to ensure that the food they eat is tasty, nutritious, and free from harmful diseases and bacteria. Professionals in the food science industry often specialize in testing the safety and nutritional content of food preparation, manufacturing, and finished products. Individuals in food processing plants and government organizations, such as the Food and Drug Administration in the United States, oversee the procedures used to store, prepare, and package food, enforcing health codes and deeming products safe or unsafe for human consumption. Quality control professionals set expiration dates and ensure that food is transported properly out of facilities.
A food scientist who works in a research laboratory might study the molecular composition of food, experiment with new foods or preservatives, or investigate possible improvements to processing equipment. Experts research the positive and negative effects of food additives and attempt to enhance the nutritional value of products. A food scientist may also tackle issues of economic problems and global hunger by examining ways to increase crop production and distribution.
To become a food scientist, an individual is usually required to obtain a bachelor's degree in the field from an accredited, four-year university or college. Some employers, including universities and private research laboratories prefer to hire scientists with master's or doctoral degrees. New workers typically receive formal training from experienced food scientists to learn about ongoing research, the various tools and techniques employed in a factory, regulations, and other details of the job. Training can last anywhere from a few weeks to about a year, depending on a specific employer's requirements and a new food scientist's abilities.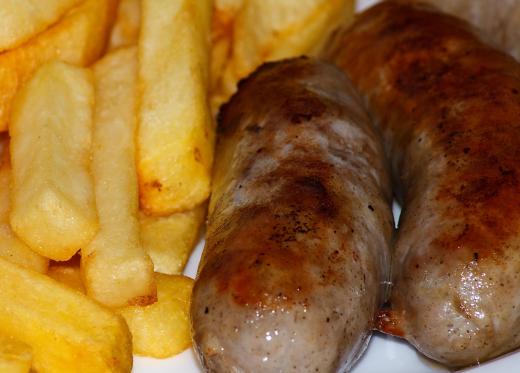 As the global population becomes more concerned with health, safety, and sustainability, there is a steadily growing demand for knowledgeable food scientists. New workers are needed to research and develop environmentally friendly products, packaging materials, and processes. Through educating the public and producing better goods, individuals in the food science industry have the opportunity to make significant impacts on persistent environmental and health issues such as climate change, conservation, and obesity.
AS FEATURED ON:
AS FEATURED ON:
By: kasto

Food scientists perform research in laboratories.

By: Monika Wisniewska

Food scientists create safer foods among other things.

By: stocksolutions

Food scientists try to educate the public about the impact of eating habits.

By: Michael Gray

Food scientists might look at different processing methods.

By: JanMika

Some food scientists help educate the public about obesity and related public health problems.