What does a Front Desk Manager do?
A front desk manager works in the hospitality industry, in an establishment such as a hotel, resort, or inn. The day-to-day responsibilities of someone in this position may vary, depending on the size of the establishment and the number of other employees that work there, but it is a challenging job that requires a person to possess excellent customer service skills as well as the ability to work well with others. There are a few different ways to enter into a management position within the hospitality industry.
A person who manages the front desk will generally always need at least a high school education. Many people who plan a career in the industry pursue college degrees in hospitality management or business in order to gain valuable knowledge. A college degree is not a requirement, however, and many managers have years of experience instead of a formal education. It generally takes at least three to five years of working on the front desk before becoming a manager, and promotions into supervisory roles are common before becoming an actual manager.
Many front desk managers begin as front desk clerks or guest services agents. It is important for the manager to know virtually everything there is to know about the hotel in order to answer customers' questions accurately, and this can typically only come from experience. Once the person gains a management position, he or she may actually spend less time working at the desk, and will instead spend more time behind the scenes.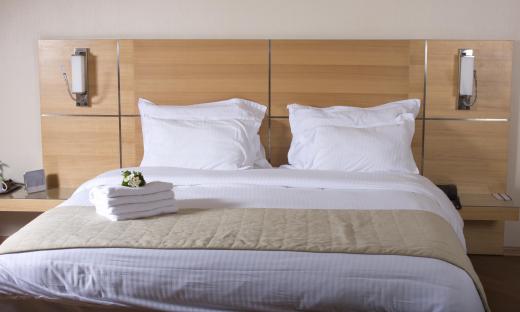 This person may be responsible for creating schedules for other employees to work the front desk, as well as making sure that company policies are always being followed. The manager will enforce policies for things like time off, hours that must be worked, dress codes, and other workplace practices. He or she will likely need to have frequent meetings with other managers in the hotel in order to discuss things such as sales goals, productivity, and ideas for improving the business.
If a customer is having a problem and needs additional help, the front desk manager may be the one who is called in. It is important for anyone in a management position to be able to deal with difficult customers and to remain polite and respectful. He or she may also be responsible for keeping track of the cash flow through the front desk, or for setting up new reservations.
AS FEATURED ON:
AS FEATURED ON:
By: David Gilder

A hotel front desk manager checks in guests.

By: mertcan

A front desk manager at a hotel may assign rooms and handle guest questions and complaints.

By: Pix by Marti

Some people develop careers in hospitality management by working from the ground up.

By: pio3

A front desk manager may pass along guest requests to the housekeeping staff.