What are the Different Front Desk Receptionist Jobs?
Front desk receptionist jobs can be found throughout all industries, and they generally can be categorized by the type of company or organization. Front desk receptionists work for medical and dental offices, hair salons, corporations and a wide variety of other organizations. People in these jobs are very often the first faces seen by visitors to the organizations.
Typical tasks for all types of front desk receptionists include answering telephones and routing telephone calls, taking messages, greeting visitors and answering visitors' questions. Receptionists might also sort and deliver the mail, perform data entry tasks, send faxes and make photocopies. The general types of tasks performed by front desk receptionists are often similar no matter what the industry, but specific responsibilities will often differ by industry and workplace.
In medical and dental offices, for example, people working in front desk receptionist jobs answer telephones, schedule appointments and greet patients. They also often ask patients to fill out medical forms, and they collect insurance information and payments. In some medical and dental offices, especially smaller ones that don't have a dedicated billing staff, receptionists might also interact with insurance companies and follow up with patients when money is owed. Front desk receptionist jobs in medical and dental offices often require sensitivity to people and the problems and pain that might be causing patients to suffer.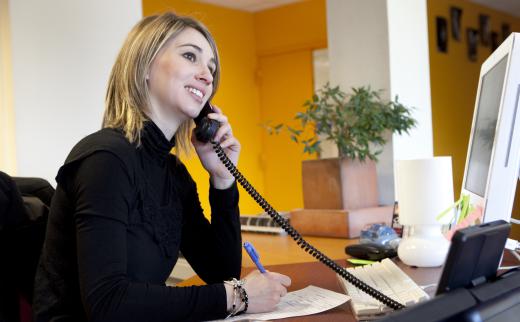 Front desk receptionists in hair salons greet clients and notify stylists when their clients have arrived. They also take client payments and schedule appointments over the phone and in person. Salon receptionists might also answer questions about hair products that are sold in the salon or even be expected to actively promote salon products.
Corporate front desk receptionist jobs can vary greatly between companies. Some front guest receptionists might perform more entry-level tasks such as greeting visitors and answering phone calls, and at other companies, front desk receptionists also help provide security. They might ask visitors to sign in and even supply badges to people entering company buildings. In smaller companies, front desk receptionists are often required to perform many other duties in addition to answering phones and greeting visitors.
Becoming a front desk receptionist usually requires having a friendly, welcoming personality, a clear phone voice and computer skills. An aptitude for using electronic equipment such as switchboards, photo copiers and other office machines is helpful. Knowledge of general office practices and the way offices operate is also helpful. A high school education is the usual minimum level of education. Applicants who have some college education might find it easier to obtain work as a front desk receptionist in a tight job market.
AS FEATURED ON:
AS FEATURED ON:
By: David Gilder

A hotel front desk receptionist checks in guests.

By: studiophotopro

Front desk receptionists should have a friendly personality.

By: Tiler84

An aptitude for using office equipment such as fax machines and copiers is helpful for becoming a front desk receptionist.

By: daniaphoto

Receptionists use calendars to make appointments for clients.

By: Lisa F. Young

A medical receptionist may be responsible for asking patients about their medical needs before their appointments.