What does a Front Desk Supervisor do?
A hotel front desk supervisor usually has a bachelor of business administration or hotel management degree. He or she is likely to need two to four years of hospitality experience before supervising front desk staff. Excellent computer, people and problem solving skills are needed as well, and being able to get along extremely well with all kinds of people including staff, upper management and hotel guests is especially important. A hotel front desk supervisor spends much of his or her workday communicating with others and reports to the hotel's manager.
An everyday duty of most supervisors is to write, along with other departmental supervisors such as housekeeping and accounting, in a daily report book that is read by the hotel manager. All supervisors also attend regular meetings with the manager and work with the manager to maintain or increase the hotel's profit margin. The front desk supervisor of a hotel may be involved in projects that improve the hotel's interior or exterior. One of his or her main responsibilities is to adjust room rates and advertise these to be more competitive with other hotels in the area. He or she may plan specials and customer promotions.
Hotel front desk supervisors advertise, interview, train and supervise front desk staff. Although the hotel manager often has the final say in the hiring and firing of all staff, a supervisor chooses the initial candidates to be considered and supplies the hotel manager with employee performance reviews on each front desk staff member. He or she is expected to lead the front desk team smoothly while creating a pleasant, welcoming atmosphere for guests.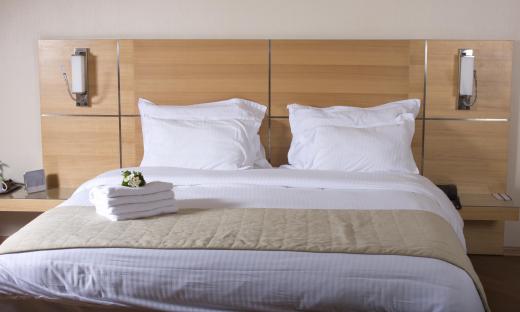 The front desk team greets and registers hotel guests and makes sure their rooms are ready on time. They deal with room service and special requests, such as reservations for plays and restaurants in the area. The hotel front desk supervisor must deal with any complaints quickly and efficiently, or the hotel manager will have to be contacted. He or she will also keep track of room keys and follow all hotel security measures.
Ensuring guest satisfaction is an important part of this job. A hotel desk supervisor often uses customer comment cards to help gauge the level of service his or her team provides from the guests' perspective. He or she then uses the comments to help him or her make needed changes in improving the hotel's guest services.
AS FEATURED ON:
AS FEATURED ON:
By: Petrus

A front desk supervisor needs to have computer, people and problem solving skills.

By: mertcan

A front desk supervisor at a hotel may assign rooms and handle any special requests from guests.

By: Fotolia RAW

A front desk supervisor may coordinate the building's cleaning schedule with the housekeeping supervisor.

By: Rido

A front desk supervise will interview and hire new front desk workers.