What Does a Fuel Truck Driver Do?
A fuel truck driver is a person who operates a truck that is used to haul various types of fuel, such as oil or gas. The job responsibilities of the fuel truck driver can vary, but in general, he or she will be responsible for the safe transport of various types of fuel that may be combustible. The driver must have specific training and certification in hauling combustible materials as well. Other responsibilities include hooking up a trailer as well as all relevant attachments, inspecting the truck before, during, and after operation, adhering to the rules of the road, and managing paperwork associated with fuel delivery.
Little or no formal education is necessary in order to become a fuel truck driver, though in an increasingly competitive market, it helps to have at least a high school diploma. The fuel truck driver will need to have a valid driver's license, and he will almost always need a commercial driver's license (CDL) in order to operate the larger trucks used for hauling fuel. It is likely that some companies will require specific endorsements on the license as well; hazardous materials transport, for example, is an endorsement the driver will likely need in order to haul fuel.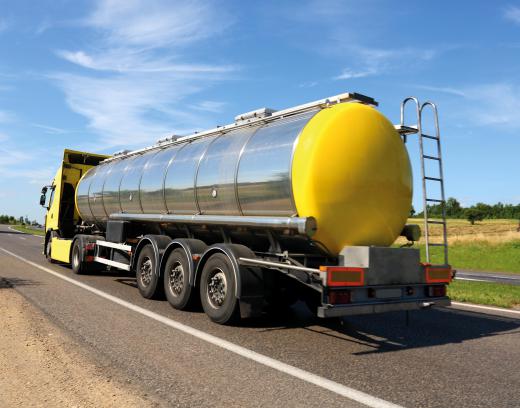 The operation of a tractor trailer truck can be difficult and will take some practice, so many drivers choose to attend a tractor trailer training school in order to earn the proper licenses and certifications. The fuel truck driver will need to learn how to drive the vehicle safely, how to back up properly, how to hitch up the trailer and unhitch it, how to properly load a trailer, how to use all radio equipment, and how to manage paperwork associated with the transport of fuel. He or she will need to keep track of all cargo and check in at weigh stations if the law applies. The driver will also need to adhere to local laws regarding how many miles he or she can log in a single day, which means the driver may end up sleeping in the truck overnight.
Some fuel truck drivers are responsible for delivering fuel directly to homes or buildings. This involves hauling a large hose from the truck to the home or building, hooking up this hose, and managing how much fuel is delivered. The driver may also need to fill out an invoice or collect payments from the homeowners.
AS FEATURED ON:
AS FEATURED ON:
By: majeczka

Truck drivers who transport fuel must be trained in the proper shipping of flammable liquids.

By: Africa Studio

Fuel truck drivers are typically required to have a clean driving record.

By: Lisa F. Young

Little or no formal education is necessary to become a fuel truck driver.

By: Monkey Business

Individuals interested in becoming a fuel truck driver typically have to complete commercial driving courses and pass an exam to become licensed.