What Does a Gym Receptionist Do?
A gym receptionist is responsible for those general clerical tasks associated with the term "receptionist" in addition to other duties specific to her employment in a gym, fitness center or exercise center. Those employed in these roles often have a background or training in receptionist and secretarial skills, and should also have a solid understanding of physical fitness and exercise. Though a specific degree may not be required for employment, many of the individuals working as a gym receptionist have education beyond high school, such as an associate's degree, and some may be trained as personal fitness consultants.
Receptionists in general are typically required to greet visitors, vendors, and clients. They may also answer telephones, taking messages and routing information to necessary personnel; some may be required to maintain clerical records either by hand or using a computer database. A gym receptionist typically performs these tasks as well as those specific to working in a fitness center; monitoring or collecting client attendance and enrollment fees, providing towels and toiletries, scheduling client sessions with the facility's personal trainers and recording fitness equipment maintenance records.
Depending upon the size of the facility a gym receptionist may be employed full-time or part-time, and in many fitness centers, administrative and clerical duties are often shared among a staff or two to three front desk employees. The receptionist staff members are often required to greet visitors as well as provide fitness center tours and conduct sales pitches to prospective members; some may also perform cleaning and housekeeping functions in the locker rooms and on exercise machinery in the fitness center. Additional responsibilities may include reminding clients of the facility's regulations and enforcing them as necessary. Many of these staff members are also personal trainers who meet with clients during appointments scheduled during their shifts.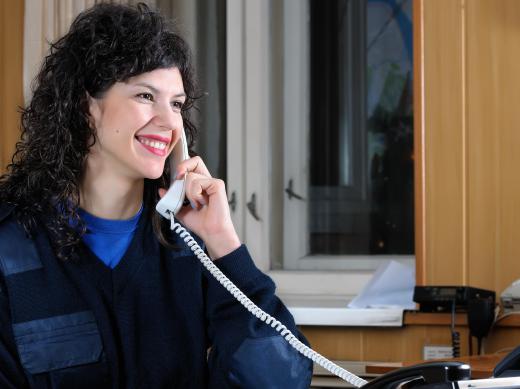 According to the US Department of Labor's Occupational Handbook, almost half of general receptionist positions require a high school diploma while the remaining require some college study or an associate's degree. Training specifically as a gym receptionist usually takes place on-the-job, as the duties of the position may vary according to the size or focus of the specific facility. Gym receptionists are often in an ideal situation to continue to increase their employability by taking classes toward certifications and trainings in different areas of fitness and exercise that may be offered at the fitness center itself. Salary increases may follow with a gym receptionist's ability to perform an increased number of job duties.
AS FEATURED ON:
AS FEATURED ON:
By: Brocreative

A gym receptionist might be responsible for locker room upkeep.

By: zhaubasar

A gym receptionist is typically tasked with handling incoming calls, answering general questions and scheduling appointments.

By: Gianluca Rasile

A gym receptionist may produce membership packets for potential new customers.

By: mindweb2

Gym receptionist may prepare class schedules for trainers.

By: Hemeroskopion

Private gym receptionists might schedule client sessions with appropriate trainers and service providers.

By: michaeljung

A gym receptionist may help members sign up for group exercise classes or personal training.

By: Mat Hayward

A gym receptionist may help set up a session with a personal trainer.