A receptionist is a type of secretary who specializes in handling the flow of people through a business. He or she answers phones and deals with people who walk into a business for appointments or because they need various services. The tasks that he or she performs can vary, depending on his or her job description, but people handling is generally viewed as the most important part of the job. As you might imagine, good people skills are a job requirement for people in this position.
Receptionists control access to executives and other staff, answers questions, schedules appointments, and handles other interpersonal interactions. They is literally the face of the business.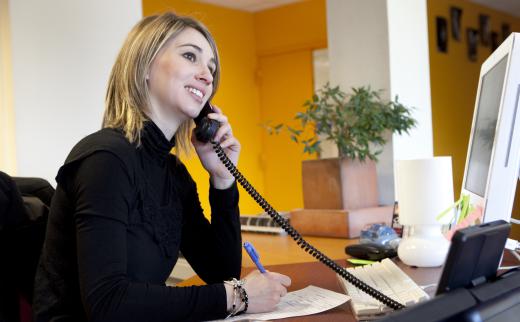 Many spas, doctors offices, salons, and other businesses that provide services to the public typically have a receptionist. In these positions, he or she makes appointments, keeps track of the schedule, keeps staff members updated about their bookings for the day, and handles client records. He or she will also answer questions for people about the services that the business offers, and he or she typically checks people in for appointments and deals with any paperwork which clients may have to fill out. Receptionists are also expected to handle client payments in many cases.
In an office, a receptionist keeps track of the schedules of various staff members, sets up meetings within the company and with outsiders, and answers questions from the public. In many cases, an office is open to the public, allowing people to simply walk in, in which case the receptionist needs to be skilled at being a watchdog of the office, preventing people without appointments from disrupting the flow of the office schedule. He or she also typically spends a lot of time on the phone.
In offices which only network with other businesses, as might be the case with a wholesaler, a receptionist is still a vital member of the team. He or she is expected to be a friendly face for companies which might want to do business, place orders, or cooperate on projects. He or she will manage schedules for the staff, make appointments, schedule meetings, and answer queries from other businesses in the course of a day's work.
Receptionists must be skilled at multitasking and remaining cheerful and courteous at all times, even when extremely frustrated. They must also be good at quickly reading people and their needs, determining, for example, whether someone should really be allowed to meet with a company executive. In addition to being good at managing the public, a receptionist has to be on top of the staff of the business that he or she works for, ensuring that people have the most current information about their schedules.
AS FEATURED ON:
AS FEATURED ON:
By: studiophotopro

A receptionist fields telephone calls and receives visitors when they come to a business or office.

By: Amakar

Receptionists may be responsible for making copies for other employees.

By: daniaphoto

Receptionists often make appointments for clients using a calendar.

By: Minerva Studio

Receptionists must be able to multitask smoothly.

By: arthurhidden

Receptionists need to have good multi-tasking skills to be an effective employee.

By: imtmphoto

Receptionists might provide assistance during meetings by taking notes.