What does a Hairdresser do?
Hairdressers cut and style hair. The stylist's main goal is to make sure the customer is satisfied with his or her haircut. If the customer is pleased, this will help to ensure repeat business.
Most stylists have graduated from cosmetology school and obtained their cosmetology license. The stylist may start out working as an apprentice in a salon to get experience. The hairdresser may rent booth space from an established salon or have a private shop.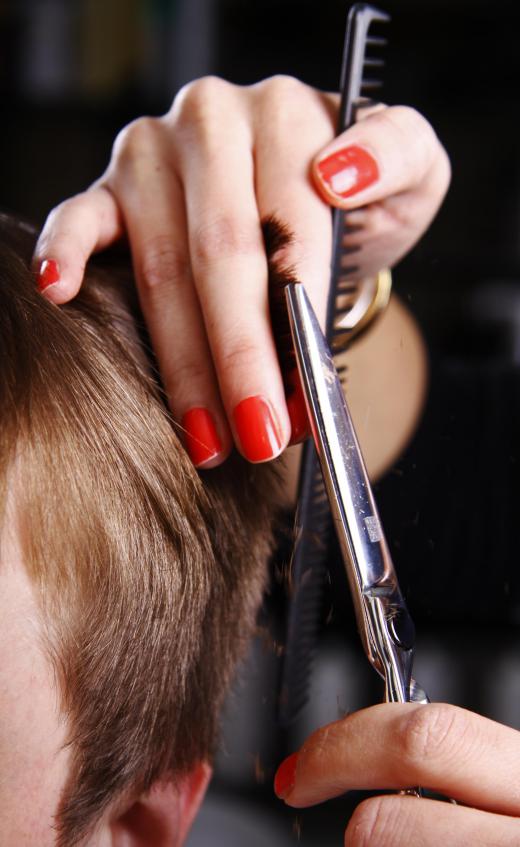 Barbers are also hairstylists and usually have men for clients. A barber gives haircuts, trims facial hair and shaves. Some additional services performed may include facials and neck massages. Treatments such as hair replacement and coloring may be available.
Cosmetologists usually perform a variety of personal services, including cutting hair and applying perms. The hairdresser often has to apply makeup and style hair. The hairdresser may have to give manicures and pedicures. Individuals may want to get their hair styled and their nails done at the same time. The stylist needs to know how to take care of the nails and how to use clippers.
Some hairdressers that work at salons may help with spa services. The hairdresser would need to be knowledgeable about the spa treatments. At some places, the stylist may help with body wraps or deep tissue massages. Advanced hairdressers sometimes specialize in skin care. Often, customers may want consultations regarding their skin, and hairdressers can recommend lotions, makeup and other products.
Hairdressers tend to work long hours to accommodate clients' schedules. Most stylists work weekends and evenings. The hairdresser has to be available for walk-in clients as well as those with appointments.
Bridal parties frequently book appointments with hairdressers. When this happens, the hairdresser may find him or herself working on several people at a time. The bride may need extra attention and want different services. This may require one or two hairdressers to help the bridal party.
Equipment such as hair dryers and scissors are used in salons, as well as flat irons and curling rods. Hairdressers need to know how to use these tools and be able to work on any type of hair. Stylists focus on making customers happy with their hair and overall experience. In the event the client is not pleased, the hairdresser will attempt to resolve the issue. The stylist should be able to work well under pressure and enjoy working with people.
AS FEATURED ON:
AS FEATURED ON:
By: mh-werbedesign

Hairdressers provide haircuts.

By: Andres Rodriguez

Hairdressers are typically well-versed in the latest hair styles and techniques.

By: macbrianmun

Blow dryers are a fundamental part of a hairdresser's toolkit.

By: Andriy Bezuglov

Some hairstylists receive certification as cosmetologists so they can perform manicures.

By: anueing

Curling irons are frequently used for styling hair.

By: tomas del amo

Hairdressers can help a bride get ready on her wedding day.