What Does a Hematologist-Oncologist Do?
A career as a hematologist-oncologist revolves around treating patients who suffer from blood disorders and/or cancer. Since this profession requires a high level of knowledge and expertise, it usually involves extensive training and board certification. Individuals in this field are typically employed by a medical facility or university, but some may work in a private practice. To be successful in this career, it's helpful for a hematologist-oncologist to possess great interpersonal skills and have a compassionate attitude. Common job duties include conducting ongoing scientific research, diagnosing patients, treating patients, supervising subordinates and attending conferences.
Conducting ongoing scientific research is often an integral part of being a hematologist-oncologist. Since new information and discoveries are constantly being found, it's important for an individual in this profession to stay on top of the latest findings. This can involve reading scientific journals or participating in research projects. Engaging in these activities can potentially help a hematologist-oncologist discover new treatment options for patients with blood disorders or cancer.
Another important part of this job is diagnosing patients. When a patient is suffering from something like hemophilia, leukemia or cancer, it's the responsibility of a hematologist-oncologist to figure out the specifics. This usually requires blood testing, physical examinations and laboratory testing for an accurate diagnosis. To be effective in diagnosing illnesses, an individual needs to be sympathetic to patients and be able to establish rapport.
Once a diagnosis has been made,a hematologist-oncologist must implement the proper treatment to ensure the best possible care for the patient. The exact treatment can vary considerably depending upon the specifics of a patient's condition, but common hematology treatments can include medications and blood transfusions. Common oncology treatments can include chemotherapy, radiotherapy and surgery.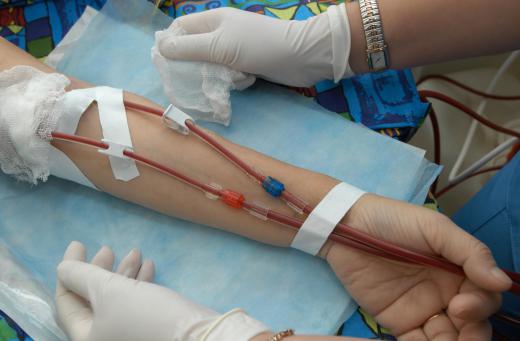 Supervising subordinates and maintaining open communication is also important. Regardless of the setting, a hematologist-oncologist will usually have several staff members working underneath him. It's his job to make sure that everyone stays on track and provides patients with adequate care. In some cases, he may also mentor medical students working on an internship program and must provide those students with training. This aspect requires a person with sound interpersonal and leadership skills.
In addition, some individuals will need to attend periodic conferences as well. These conferences are geared toward professionals in the medical field and typically discuss recent scientific findings. Interacting with other professionals in these settings helps a hematologist-oncologist stay on the cutting edge of his career, which inevitably results in better patient care.
AS FEATURED ON:
AS FEATURED ON:
By: Alila

A diagram of the effects of leukemia. A hematologist-oncologist may treat blood cancers, such as leukemia.

By: Alex Tihonov

A hematologist-oncologist might prescribe a course of radiotherapy with a linear accelerator.

By: Max Tactic

Common hematology treatments can include blood transfusions.

By: Monkey Business

A hematologist-oncologist develops treatment plans for patients with blood cancers.

By: spflaum

A hematologist-oncologist may seek out opportunities to participate in laboratory research.

By: sepy

A hematologist-oncologist may be responsible for supervising subordinates.

By: Radu Razvan

A hematologist-oncologist may perform laboratory testing in order to accurately diagnose a patient.

By: nebari

A hematologist-oncologist may implement chemotherapy treatment for a patient.