What Does a Hospitality Consultant Do?
A hospitality consultant works with members of the hospitality industry to start, improve, or renovate businesses. This can include theme parks, attractions, restaurants, hotels, and related facilities. Hospitality consultants may choose to specialize in a particular area of the industry, like restaurant management or resorts, in order to offer the best services to their clients. Some have professional qualifications like degrees, while others have substantial experience in the industry which they can apply to consulting sessions.
In an initial client meeting, the hospitality consultant can discuss the project and the goals. This allows both parties to determine if they are good fit; someone who mainly focuses on bars, for example, might not be a good consultant for a company working on a plan for a chain of coffee houses. Consultants can use information from this meeting to start planning the project, considering the target demographic, the client's needs and goals, and other factors.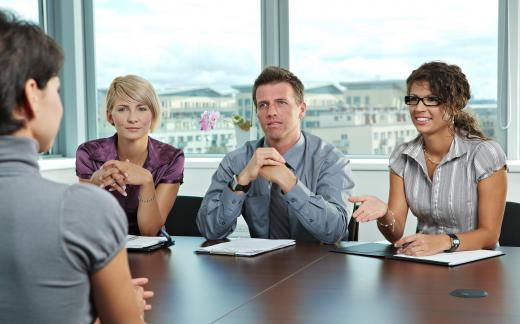 New facility development often includes hospitality consultants. They can assist with decisions ranging from décor to menu development, and may offer services like focus groups with prospective customers, assistance with advertising, and the development of training programs for personnel. As the facility moves into production, the hospitality consultant can supervise construction, decoration, and training. Similar services may be provided to firms interested in renovating and changing their business mission.
Failing companies or businesses concerned about staying competitive can also request the services of a hospitality consultant. In this case, the consultant can evaluate the business, identify strengths and weaknesses, and meet with the client to discuss them. This provides an opportunity to propose potential plans to rescue a business or keep it thriving; a restaurant, for example, might need to update its menu or staff training procedures to appeal to a new clientele and keep pace with the competition.
Professional organizations of hospitality consultants provide networking opportunities as well as member lists for prospective clients. People may choose to join an organization to be able to attend conferences, receive trade journals, and access clients who turn to the organization for referrals. A career as a hospitality consultant requires constantly keeping pace with the industry and staying familiar with different demographics. Clients rely on their consultants to help them make sound and efficient business decisions, and may return to them for future work if they are satisfied with the quality of service. Exclusive contracts may be available from clients who want to retain a full-time consultant.
AS FEATURED ON:
AS FEATURED ON:
By: nyul

In an initial client meeting, the hospitality consultant can discuss the project and the goals.

By: FotolEdhar

Professional organizations of hospitality consultants provide networking opportunities.

By: lester120

Hospitality consultants work with chefs to prepare appealing menus.

By: Pix by Marti

Some people develop careers in hospitality management by working from the ground up.

By: Maya Kruchancova

Hospitality consultants may oversee personnel including bartenders.

By: Aleksey Kondratyuk

Hospitality consultants might have experience in the catering industry.

By: pio3

Hospitality consultants can help housekeeping managers find ways to meet industry standards.