What Does a Hotel Hostess Do?
A hotel hostess has several responsibilities in the course of a work shift, though those responsibilities vary from hotel to hotel. Generally, the hotel hostess is responsible for greeting guests as they arrive, checking guests into their rooms, selecting the best rooms for each guest, checking guests out upon their departure and for maintaining the hotel's registry book. The hostess is a staff worker who operates all of the necessary tasks of the hotel's front desk. She is also responsible for answering any questions that a guest may have, for booking rooms over the phone, and for keeping the lobby looking tidy and presentable. Some hostesses may also be responsible for providing concierge service.
The hostess will usually be stationed at the front desk, usually in the lobby or the foyer. She often has a computer connected to the hotel's main database that manages room bookings and allocations, payments and other miscellaneous tasks. The primary task of the hotel hostess is to greet guests with a pleasant and helpful demeanor as they arrive. A hostess needs to be focused on providing an inviting and helpful environment for patrons.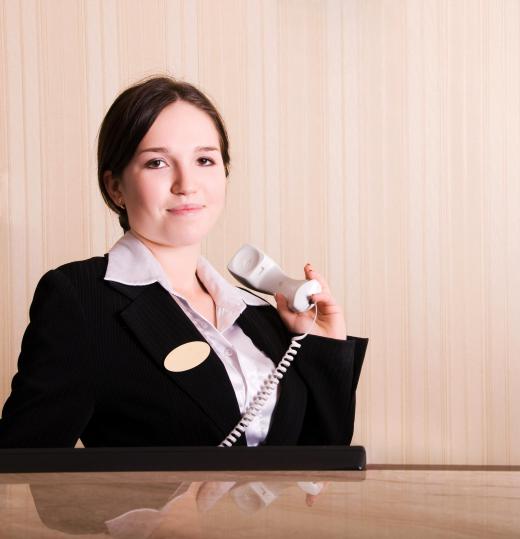 There are several administrative and maintenance tasks that the hotel hostess must routinely perform as well. Keeping all paperwork properly logged and filed is essential, and the hostess must make sure that each guest in the hotel signs the registration book, has proper and valid identification, and a valid credit card to secure the room against damage. The hostess must also administrate other hotel workers, such as doormen, bellmen, kitchen and bar staff as well as janitorial and maintenance staff. She must be able to coordinate the tasks of numerous hotel staff workers to ensure that the needs of every guest are met.
The hotel hostess must answer all questions that a guest may ask, including those outside the purview of hotel operations. A hostess may be asked to provide deals on room booking rates, to upgrade a guest's existing room to superior accommodations, or about any potential discounts for hotel amenities, such as a gym, pool, restaurant or bar. The hostess may also be asked about services beyond those offered by the hotel, such as local attractions, good restaurants, nearby shopping or the best tourist attractions. In this way, a hostess may need to operate as a concierge, especially when working at a smaller, non-chain hotel.
What Are the Duties and Responsibilities of a Hotel Hostess?
A clean, organized, and welcoming lobby should be the first thing guests take in when they enter a hotel, followed immediately by a capable and knowledgeable hostess. A hotel hostess has one of the most critical jobs in a hotel.
As the first person who greets guests, the hostess is responsible for creating an excellent first impression of the hotel. What a customer sees when they first enter the hotel will affect their overall impression of the hotel during their stay. It's up to the hostess to make sure the staff is able to make that guest's first impression a great one.
Some of the key duties and responsibilities of a hotel hostess might include the following:
Matching guests with rooms that are appropriate for their needs
Checking guests in and out
Making dining reservations
Ensuring guests have all they need for their stay
Managing conflicts among staff members
Ensuring good service for all guests
Maintaining the appearance of the lobby
Handling customer complaints and conflicts
In essence, the hostess keeps a hotel's front desk and lobby running like a well-oiled machine. She must ensure all aspects of a customer's experience are beneficial for both the customer and the hotel.
How Much Does a Hotel Hostess Make?
The pay range for a hostess is quite broad and depends on experience, responsibility, and the type of venue. On average, a hostess can expect to make $36,388 per year. That breaks down to just under $18 an hour. That salary doesn't include any potential benefits an establishment might offer its staff.
However, hostesses who are more experienced, have more serious responsibilities, or work for a high-end facility could make upwards of $91,000. That said, salaries above $66,000 are considered outliers. Therefore, a realistic salary expectation would be anywhere from $21,500-$40,000.
What Are Some Potential Interview Questions and Answers for Hotel Hostess?
The type of questions an establishment will ask a hostess candidate will depend mainly on the job duties and the candidate's level of experience. Your interview's question and answer portion is the perfect time to highlight your multitasking skills and professionalism.
Here are some common interview questions and answers for a hotel hostess that you might have to answer, along with some techniques for answering them.
1. If you and a coworker had a conflict, how would you try to resolve it?
The most important aspect of resolving conflict is finding a space where all parties can be heard. Then, you'll move toward resolution. Consider the following response:
The first step toward resolving a conflict with a coworker should always be moving the conflict away from customers. I would bring the coworker to an area where we can discuss the topic without customers nearby.
Then, I would ask the coworker to explain what their concerns are. Once they finished speaking, I would calmly discuss what their ideal outcome might be. If the solution is within my power and I feel it's a reasonable request, I'll do my best to accommodate them. Otherwise, I'll attempt to find a way to meet them in the middle.
2. Why should we hire you?
This is an excellent time to touch on the essential requirements that were outlined in the job description. Be sure to reread the job posting and description before going into the interview. Reading it over one last time will ensure it's all fresh in your mind when you sit down for your interview.
Take a look at the following example response.
My past hospitality experience makes me uniquely suited for this position. I adapt quickly to a rapidly-changing environment and have strong multitasking skills that let me address any issues promptly.
I also always come to work with a positive attitude. I want to make sure a customer views the business I work for positively, so I always make it my goal to do all I can to ensure that happens.
3. Why do you want to be a hostess?
Your response to this question is the best place to let your experience and personality shine. You can touch on your strengths, experiences, and how the combination of the two has contributed to your career goals. Here's a suggested response.
I've always enjoyed working in the hospitality industry because I have a passion for working with the public. In addition, I'm great with customer engagement, which is a skill that would be beneficial in this establishment. Each year I spend working in the hospitality industry excites me. I feel that excitement could be put to great use for your establishment.
What Is a Hotel Hostess?
As was briefly touched upon above, what a hotel hostess does will be slightly different depending on what kind of organization she works for. Smaller businesses, such as locally-based bed and breakfasts or independent hotels, generally have fewer staff members. In these instances, the hostess may fulfill multiple roles. She may be the first person people interact with at the business, as well as the person who helps them with their baggage and answers any questions they might have. If it is a truly small operation, she may even oversee proceedings such as food offerings and housekeeping services.
Where larger, chain hotels are concerned, a hotel hostess fulfills a much more clear-cut duty. She will often be in charge of managing the lobby, welcoming guests as they enter the building. She will check guests in and give them some basic information such as directions to their room before sending them on their way. In these instances, there will usually be several hostesses working in shifts, and customers may only interact with the same hostess a handful of times.
How to Become a Hotel Hostess
Being a hotel hostess is a job that is part of the tourism and hospitality industry. While there are college degrees that you can get for these kinds of jobs, they are usually not necessary for becoming a hostess. Many potential employers will require a high-school diploma to apply for the job, but some will hire regardless of how much formal education a candidate has or hasn't received.
A hotel hostess usually needs to be at least 18 years old, though the age requirement may be 21 years old if any part of the job involves handling or serving alcohol to guests. The best way to prepare to become a hotel hostess is to review the interview questions in this article and practice responses. Any past experience in customer service or hospitality may also help a person stand out among the competition.
What Skills Are Needed to Be a Hostess? 
Interpersonal skills are a must for anyone wanting to become a hotel hostess. Candidates will need to be prepared to interact with a wide range of people, some of whom may be frustrated or annoyed by the hotel policies that they must follow. Being able to handle these situations with patience while staying professional is a valuable skill for anyone in the industry.
Having an outgoing personality can also be helpful, as a hostess will need to hold many conversations in a day. Guests often want to chat or ask questions about things to do in the area. Being able to treat everyone with enthusiasm can be difficult, but it is an important part of making guests feel welcome in the hotel.
Attention to detail and being organized are two more skills employers will likely look for. Hostesses must balance multiple duties, and may have to juggle between talking on the phone, reading through emails, and speaking to guests in the lobby. It is vital that nobody's information is lost or organized incorrectly, as this can cause problems when guests try to check in or out.
Staying calm under pressure is another trait that is valuable to a hostess. Balancing all the tasks involved and dealing with customers who may not be in the best mood during rush times at work can get stressful.
Tips for Resumes
When creating a resume to submit for a hotel hostess job, candidates should not only highlight their past job experience but also point out how that experience relates to skills needed in the hospitality industry. Even if a job was not directly related to hotels, if there was customer service involved, the candidate could point out that they spoke with customers daily, helped customers who were frustrated find solutions to problems, and so on.
The candidate can consider reserving a section of the resume for a detailed list of skills. These could be skills gained outside of past jobs, such as those developed through community service, clubs, or other social organizations. It is important to provide evidence to back up any skills that are listed to show the employer how you would be a good fit for their job.
General standards for a good resume can be found through quick online research. By using a professional format and highlighting the skills she brings to a table, a candidate can greatly increase her chances of getting an interview.
If you are currently applying for jobs, the most important thing to do is stick with it. Just because you don't get called back for the first one you apply for doesn't mean that you won't be a good fit for others.
AS FEATURED ON:
AS FEATURED ON:
By: Dmitrijs Dmitrijevs

A hotel hostess is responsible for checking guests into their rooms.

By: Offscreen

A hotel hostess may oversee cleaning staff to make sure each room is ready before a guest arrives.

By: stockyimages

Hotel hostesses sometimes oversee other hotel staff.

By: vgstudio

A hotel hostess may be able to recommend local night clubs and venues.

By: pio3

A hotel hostess may pass along guest requests to the housekeeping staff.