What does a Landscape Engineer do?
A landscape engineer utilizes the principles of science to design functional, attractive, and structurally sound landscapes. An expert considers many different environmental and geological factors to create the best plans for parks, gardens, golf courses, and other outdoor public spaces. Landscape engineers usually work closely with architects and site supervisors to ensure quality during the construction phase of a project. Some experienced engineers are self-employed contractors, though the majority of these professionals work for government agencies and private consulting firms.
When a local urban planning committee or landowner decides to implement a new outdoor project, they first consult a skilled landscape engineer. The engineer researches the area to determine the feasibility of altering the existing landscape. Some projects entail adding or removing considerable amounts of rock and soil to create level surfaces. The landscape engineer uses his or her knowledge of geology, environmental science, and civil engineering to determine how practical it would be to make such drastic modifications. He or she calculates probable costs and time frames, and presents initial plants in a formal document.
Engineers often try to incorporate existing elements of the land, such as natural slopes or tall trees, into new design schemes. They identify potential hazards such as wind gusts and flooding, and plan protective structures accordingly. Professionals work with architects and surveyors to create accurate blueprints and scale models. When actual construction begins, engineers usually spend a lot of time on-site to oversee progress, direct workers, and make small changes if problems arise.
Some landscape engineers specialize in environmental restoration and sustainability projects. They commonly work with environmental scientists and forestry experts to recreate natural ecosystems in areas that have been badly eroded or otherwise damaged due to human activity. For example, professionals might design dams, retaining walls, or reservoirs to protect water sources and the plants and animals that depend on them. Some landscape engineers consult agricultural companies and farmers on the most efficient, sustainable ways to grow and water crops in an area.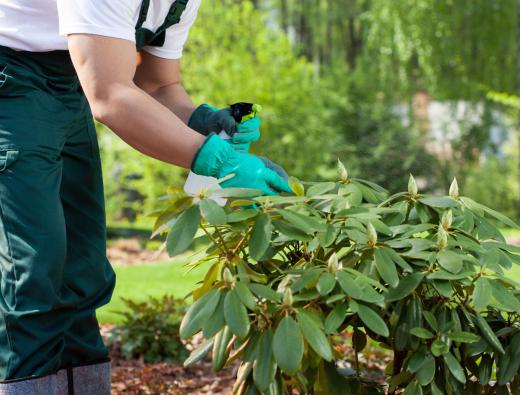 Most landscape engineers hold bachelor's or master's degrees in civil engineering, landscape architecture, or urban design. New workers typically begin their careers as interns or entry-level assistants to experienced engineers. Many states and countries require both private contractors and government workers to obtain licenses by passing detailed examinations. After receiving a license and proving his or her skills, a new landscape engineer may have the opportunity to advance within an agency.
A proficient landscape engineer can usually become a senior supervisor after gaining several years of experienced. Senior engineers assume additional responsibilities, such as independently designing new projects, managing teams of other workers, and making essential budget and project decisions. Some engineers who excel in the field decide to open their own contracting businesses or consulting firms.
AS FEATURED ON:
AS FEATURED ON:
By: Lsantilli

Landscape engineers often work closely with architects to ensure the quality construction of a project.

By: espion

Landscape engineers may design public recreation areas.

By: Photographee.eu

Landscape engineers try to create spaces which preserve native plant species.

By: Kati Molin

Landscape engineers may have a hand in designing golf courses.

By: imtmphoto

Most landscape engineers hold bachelor's or master's degrees in civil engineering, landscape architecture or urban design.