Miners are valuable members of the work force that engage in the risky but essential task of extracting minerals and other important substances from the earth. The materials that are harvested are used to provide a number of goods and services to the buying public. In some cases, the miner works with highly technical equipment, and in other situations, he might perform his duties with the same simple tools that have been used for centuries.
Perhaps the most commonly recognized type is the coal miner. Coal mining involves extracting coal from underground mines, a task that is carries a high degree of risk. Historically, few precautions were made to protect these miners safe from physical danger, including respiratory problems. The second half of the 20th century saw a number of reforms in the industry, however, including the addition of protective gear that serves to minimize the chances for ongoing health issues.
Mining in general is a dangerous profession. Much of the actual work takes place in the mines, where there is always the chance of exposure to underground gases, shaft failures, and other dangers. Part of the training process for a miner today includes working with life saving equipment, as well as learning how to deal with emergency situations that arise in the mines from time to time.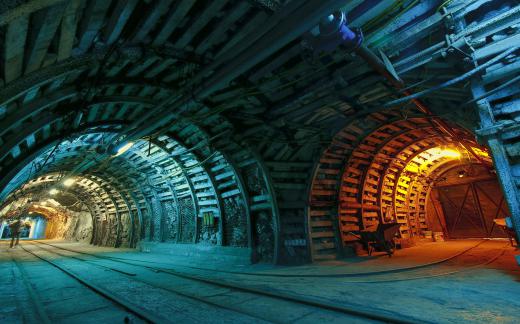 For many years, there was no formal training for the new miner. Instead, all that was required was a strong constitution and a willingness to work long hours. Over time, many mining companies have created training sessions that help to provide the new hire with some basic information about mining techniques and procedures, as they apply to the type of mining conducted by the company. Mentoring programs are also a common part of the first several months of the worker's work experience. Pairing a novice with an experienced miner has proven to be a successful strategy, as it allows for the orderly transfer of knowledge from one individual to another.
AS FEATURED ON:
AS FEATURED ON:
By: Kelpfish

Coal miners often develop serious health problems.

By: Aniuszka

Large tunnels in a coal mine.

By: Maksim Shebeko

When gold is mined, it must be extracted from its surrounding materials.

By: Kelpfish

Most miners wear face protection, which may include a respirator.

By: io

Most mining takes place underground, where workers may face dangerous conditions.

By: chiakto

Miners must be physically fit to endure labor requirements.