What does a Paraprofessional for a School do?
Similar to a teacher's aid, a paraprofessional for a school assists a teacher in a classroom. She may not require a teaching certificate, but she will have some experience in the educational field. Her duties may include working with a student one-on-one, or assisting a few students at a time. She will typically be proficient in clerical work and computer tasks, such as word processing.
Depending on the region or district where she works, there may be a series of tests an individual must pass before becoming a paraprofessional for a school. Tests may include basic reading, writing, and math comprehension. According to regulations set by the state or other regional authority, the individual may be permitted to test again if she has failed on the first attempt.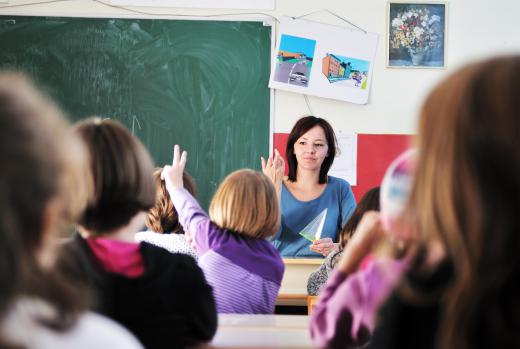 Duties of the school paraprofessional may vary, but typically she will interact closely with students, teachers, and school administrators. If a teacher is called away from the classroom for a short period of time, the paraprofessional may oversee classroom activities, supervising students. She may answer questions from students and reinforce rules and guidelines initiated by the teacher. In the event of disobedience or disorderly conduct by students, a paraprofessional for a school will also handle discipline. This may also include writing reports to submit for the teacher.
Clerical duties may be another major responsibility of a paraprofessional for a school. Filing, keeping reports, and collecting student papers may be a few of her duties. She will be adept at using classroom equipment. She will excel in written and oral assignments and be proficient in all forms of communication.
When a regular school teacher is absent, a substitute teacher generally fills in. A paraprofessional will often assist the substitute teacher in getting acclimated. As the substitute teacher adapts to the routine of teaching in the new classroom, the paraprofessional may provide guidance or instructions for certain classroom procedures.
The paraprofessional for a school must observe strict professional ethics. Classroom professionals have access to personal information about students. Any information regarding her students must be kept confidential. The paraprofessional is usually responsible to assist and monitor student activities outside of the classroom, such as on the playground. If there is discord or an accident on the school grounds, the paraprofessional will call for help while providing assistance.
AS FEATURED ON:
AS FEATURED ON:
By: .shock

A paraprofessional is responsible for assisting a teacher in a classroom.

By: Lisa F. Young

Paraprofessionals often work with students one-on-one.

By: olly

Students who are disruptive in class may require a paraprofessional to accompany them to each of their classes.

By: Dusan Kostic

A paraprofessional for a school must observe strict professional ethics.