What does a Physiotherapist do?
A physiotherapist works with people who have become disabled by injury, illness, or age. The goal of the physiotherapist is to help patients regain their range of movement, or to support patients with permanent disabilities to prevent further damage and increase the patient's functionality. Physiotherapy is also known as physical therapy in some regions of the world, and these medical professionals can be found working in hospitals, outpatient clinics, sports clubs, and in roaming practices, bringing care to patients who cannot travel.
Typically, a physiotherapist establishes a long-term relationship with a patient, and he or she is part of a larger care team which is designed to support the patient through the healing process. When a patient is first referred for physiotherapy, the therapist will meet with the patient to perform an assessment, learning about what has caused the patient's disability, the level of the patient's disability, and the types of goals a patient might have. With this information in hand, the physiotherapist can establish a therapy program which is tailored to the patient's unique needs.
Physical exercises which are designed to develop the patient's muscle tone and strength are a core part of a physiotherapy plan. Physiotherapists may also use manipulation techniques such as massage and guided stretching to help their patients, and they also offer nutritional advice, body conditioning, and prophylactic care which is designed to prevent recurrence of injuries, and to avoid making an injury worse.
Physiotherapists can opt to work with specific types of patients, focusing on issues like elder care, pediatric physiotherapy, stroke rehabilitation, and so forth, or they may choose to have a general practice, in which they will interact with a range of patients in a variety of physical conditions. In addition to working with the musculoskeletal system to get patients moving, physiotherapists also address the pulmonary, cardiovascular, and neuromuscular systems, with the goal of helping the patient achieve a high level of general physical health.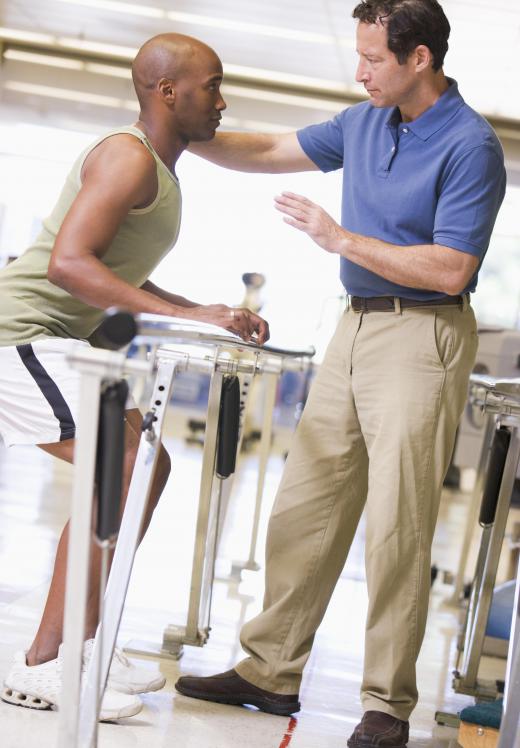 Different nations require different levels of certification for a practicing physiotherapist. Some have relatively light training requirements, while others require physiotherapists to be nurses or doctors with more extensive training. People who are interested in a career in physiotherapy may want to find out about the specific requirements in the nation where they want to work, so that they can pursue training of an appropriate level. It is also a good idea to plan on attending continuing education opportunities like conferences, workshops, and seminars, to keep up with new trends in the field which may benefit patients.
AS FEATURED ON:
AS FEATURED ON:
A physiotherapist usually works directly with a client.

By: Jaren Wicklund

A physiotherapist may help a patient with permanent disabilities increase functionality.

By: Monkey Business

A sports physiotherapist helps athletes prevent and recover from injuries and surgery.

By: aykuterd

Physiotherapists must learn specific techniques that are used to maintain, rebuild or regain strength and flexibility.

By: Ambrophoto

Physiotherapy is commonly referred to as physical therapy.

By: Micky75

Physiotherapists may employ massage techniques to help loosen tight muscles.

By: Andres Rodriguez

Physiotherapists work closely with other medical professionals, as a part of a comprehensive care team.

By: Photographee.eu

Physiotherapists use orthopedic machinery to rehabilitate their patients.