What Does a Plumbing Designer Do?
The responsibility of a plumbing designer is to create plumbing and piping systems that work within the particular needs or specifications of a building or construction project. Plumbing designers are as necessary as any other architect or engineer working on a building project. The work of plumbing engineers must comply with the design specifications of all other parts of the building as well. A broad understanding of how plumbing works with every other part of a building is critical to this position, which typically requires a bachelor's or master's degree. Plumbing designers must also have a working knowledge of mechanical drawings and specifications as well as the various pipes and plumbing fixtures necessary for the successful completion of the project.
A plumbing designer spends a great deal of time preparing mechanical drawings and specification documents for specific buildings or structures. Information regarding structural specifications, design, pressure loads, type of materials used and even color must all be reviewed by a plumbing designer before any construction work can begin. Specification of the correct materials and preparation of cost estimates are also part of the designers job. Selecting materials, estimating delivery times, determining the availability of materials and the labor necessary to complete a project is a critical function of this position.
Matching various plumbing elements, such as pipes and fixtures, to the overall architectural design is another part of what a plumbing designer does. Every door, window, and interior space is designed to work with all other engineering and architectural aspects of a building, including the plumbing and piping. For example, a plumbing designer may need to integrate a required number of ceiling mounted fire sprinklers within the interior spaces of a building. Working closely with the architect and other building engineers, the location and type of pipe specified is determined by the plumbing designer.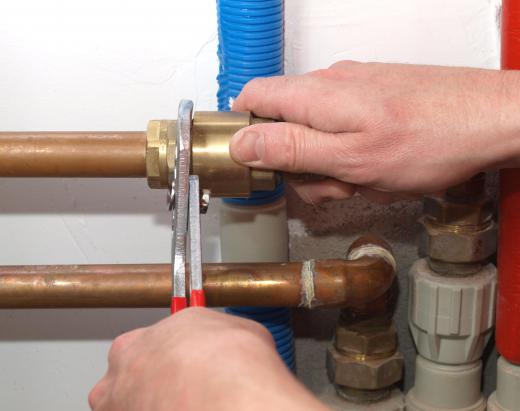 Providing specifications for the various types and locations of pipes within a building or structure is also an important part of this job. Knowledge of various types of products along with the ability to provide exact specifications for plumbing supplies and equipment is vital for preparing construction contracts and agreements. A plumbing designer may need specialized training to acquire the necessary knowledge needed to conduct inspections and assure code compliance with all local and regional regulations.
AS FEATURED ON:
AS FEATURED ON:
Pipe fittings.

By: Photographee.eu

Plumbing designers match a variety of plumbing elements to create a workable system.

By: auremar

Plumbers install pipe based on the design of a plumbing designer.