What Does a Political Editor Do?
A political editor is typically responsible for overseeing the political correspondents and reporters working at a newspaper or other form of news and broadcast media. This means that he or she may be answerable for any issues that arise due to the reporting of correspondents working below him or her. He or she may also review and edit reports made by other political correspondents and add his or her name to the byline for those reports prior to publication. A political editor may also handle any interviews with major political figures and coverage of especially noteworthy or historic political events.
At many major newspapers and news media outlets, the political editor is the highest ranking reporter in the political department of that agency. This means that the editor is responsible for overseeing the work and efforts of other political reporters and correspondents at that news outlet. The political editor may directly edit and review articles or reports before they are published or broadcast, or may simply trust other correspondents to be responsible for their own reporting. If issues arise that involve accuracy or responsibility in reporting by political correspondents, then the editor typically investigates those issues and may answer for them in the end.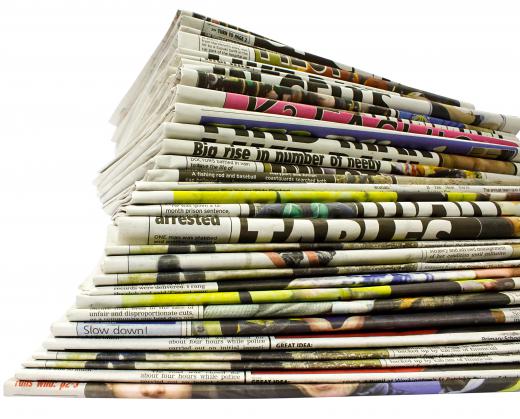 The political editor may also be responsible for overseeing new or junior political journalists and correspondents to ensure they are working well within the structure of the media agency. This can include using the name of the editor on the byline of a story, which serves to reinforce the reliability of the article by showing that the editor stands by the information contained in it. The inclusion of the name of the political editor is also why editors must be careful to ensure that the information in the report is accurate and reported responsibly.
While the daily duties and responsibilities of a political editor are largely managerial in nature, they may still report directly on certain events. If a news agency has an interview with a major political figure, such as the president of a country, then the political editor is usually called upon for such interviews. Political editors may also provide direct reporting during major political events, usually writing stories for publication or appearing on air during broadcast reports. The election of a new president, for example, often involves reporting by numerous news and media outlets, and political editors are often directly involved in such reporting.
AS FEATURED ON:
AS FEATURED ON:
By: stocksolutions

Political editors typically work for a newspaper and oversee reporters and content for the paper's political section.

By: wellphoto

Some broadcast media outlets employ political editors to oversee coverage of politics and elections.

By: antiksu

A political editor may directly edit and review articles or reports before they are published or broadcast.