What Does a Process Control Engineer Do?
Process control engineers typically design, implement, and oversee a range of different software-driven automation systems. The job can vary a lot from setting to setting; some of these professionals work in factories with machines involved in complex production, for instance, whereas others work in labs overseeing pharmaceutical production, or in the aerospace industry maintaining the integrity of space and aircraft maintenance, to name a few possibilities. In nearly all cases, though, the core elements of the job are about the same. All engineers usually spend a lot of time interacting with customers, clients, management, and support personnel to ensure the smooth operation of automation and controls. In-depth knowledge of testing, start-up procedures, and system integration options is also usually necessary, and professionals usually also need to be skilled in assessing documentation requirements and generating designs. Getting started in the job usually requires at least a bachelor's degree in engineering, though further education and in-field experiences are almost always really helpful, too.
Understanding the Job Generally
In a broad sense, process control engineering is a way of assuring quality and integrity in the production of some highly specific or specialized product. Most engineers work with large-scale processes, usually involving steel and metalwork or polymer resins, as seen in most big production facilities. Smaller scale or more nuanced projects can also require the expertise of these technicians, though. No matter the substance at issue, most modern manufacturing is automated, which means it's controlled by machines — machines that, in turn, are usually executing a series of commands as directed by a certain software or other computer program.
The control engineer's job is sometimes to design these programs, but almost always to implement and execute them. This usually involves compiling data and actually executing the applications in the first place, and usually also testing and tweaking to ensure the right results. There's also usually a lot of teamwork involved, both in terms of coordinating employees and support staff but also maintaining communication with clients and answering so as to establish and maintain a strong business relationship.
Programming and Data Compilation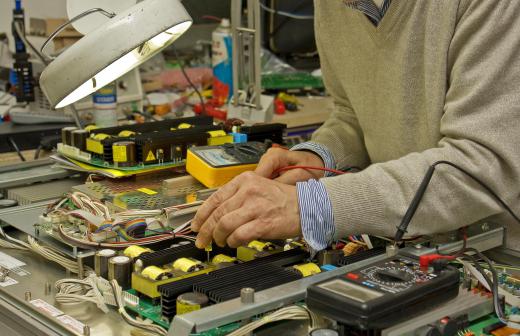 The engineer must have demonstrated proficiency in the development and management of process control solutions, from collecting data through the design, configuration, and integration processes. He or she must be competent in programming and the development and implementation of engineering guidelines and standards. Knowledge of batch process manufacturing software programming as well as in Visual Basic and PC networking is usually essential.
Testing and Implementation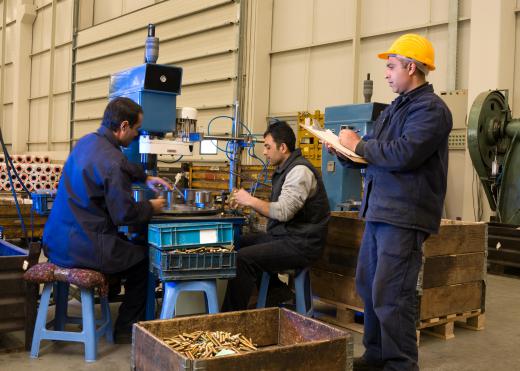 Running trials and diagnosing problems early is another big part of the job. The engineer must be able to look at the "big picture" of the programs being run and look for ways of both maximizing efficiencies and reducing the possibilities for error. A lot of this is very technical work, but much of it is also personnel and team-driven.
Importance of Clear Communication
There are many departments involved in process controls, which makes clear and concise communications imperative to the control engineer's success. He or she must be an inspirational team leader and must usually be able to independently make decisions. Project management is a large part of the job, and upon completion of each project, the engineer must usually be able to provide detailed documentation of the project from inception through completion.
In most cases, this sort of engineer is often required to perform many tasks in a typical workday. As project goals and guidelines are altered by clients and potentially also technical problems, the engineer must be able to accurately assess the situation. He should then be able to present alternate solutions based on his knowledge and experience as well as that of his colleagues.
Interpersonal Skills and Teamwork
Besides technical knowledge and expertise, the position requires exemplary interpersonal relationship skills. The success of each project and the subsequent satisfaction of clients depends on this person's ability to not only lead by example but also inspire support personnel to be creative, supportive of each other's ideas and efforts, and goal-oriented. He should demonstrate understanding of the project team's goals and provide appropriate technical guidance on design and engineering issues. The process control engineer needs to keep abreast of emerging technologies and applications to guarantee a competitive edge in the industry in which he works.
Education and Getting Started
The educational requirements for a process control engineer can vary greatly depending on the specific position and industry. An undergraduate degree in electrical, chemical, or computer engineering is usually preferred, and advanced or more nuanced programs at the graduate level are often helpful, too. The number of years experience required varies with the industry, position and job responsibilities. In some cases, engineers may need to be professionally certified before beginning work.
How To Become a Process Control Engineer?
Students who excel in math and sciences often consider careers in engineering. However, the many different fields under the umbrella of engineering can be overwhelming. Learning about the other areas of engineering is essential starting now, so they can enroll in the correct degree program and take the suitable classes to graduate on time and enter the workforce for hands-on experience and training. Taking each specialization one at a time will help students determine their own career paths down the road.
Self-Inventory
Students must first start with an interest inventory to become process control engineers. Engineers are typically the most creative problem solvers in the room and are happy to show their thought processes. Other essential traits include:
Detail-oriented 
Self-organized
Analytical 
Communicative 
Curious 
Logical 
Degree and Certification Programs 
Engineering remains a blanket for a variety of diverse sub-topics. For the most part, skilled engineers must have at least a bachelor's degree. A master's degree or equivalent experience in the field is preferred in many cases.
Certification programs can vary from state to state and job to job. While some workers will spend very little time and effort building your certifications, others will want you to rack them up as you grow with the company. Over time, the expectation is that you will work to obtain standard certifications in the industry that help guide process control engineers, including:
Certified manufacturing engineer
Six sigma green belt 
Certified manufacturing engineer 
Engineer in training certification 
For most students, an engineering degree takes anywhere from five to seven years, and it is a full-time commitment. When classes are not in session, internships and externships are in place for hands-on learning and field skills. The most popular majors for process control engineers include but are not limited to:
Electrical engineering 
Chemical engineering 
Mechanical engineering 
Electrical engineering technology 
Business 
Industrial engineering 
Engineering (proper)
Industrial technology 
Engineering and Industrial Management 
While engineering and industrial management does not make it to the top of the majors list, it is one of the firmest foundations for available process control engineering. One of the highest paying and sought-after career paths in engineering is EI management. However, it is not routinely chosen because students prefer to have more technical specialization and less management and analytical training. While Engineering and industrial management is not the only way to reach process control engineer status, it is a streamlined path with great opportunities.
What Are Process Control Engineer Qualifications? 
Aside from degree qualifications and documented hours in the field, hiring managers seek specific qualifications that all process control engineers should have to be safe, successful, and professionally certified.
The goal of any process control engineer is to efficiently manage the ongoing production of materials for increased quality and efficiency. To do that, process control engineers must be skilled at and have experiential knowledge to qualify for competitive job openings.
Increase the system
Decrease expenditures
Boost energy efficiency 
Eliminate scrap, rework, inefficiencies
Increase automation 
Process control software 
Control QA programs and software 
Command of process control instrumentation 
Ultimately, anything that the process control engineers can do to increase production without sacrificing quality or purpose to cut costs and enhance the capability to take on more production and thus make more profit is highly desirable and sought after in many different fields, including but not limited to:
Power generation 
Pulp and paper 
OEM and manufacturing 
Food and dairy 
Oil and gas 
Water processing 
Pharmaceuticals 
Petrochemicals 
Do Process Control Engineers Write Code? 
Process control engineers can create, write, and process code and develop valuable programs for the industry. However, not much process control engineering is actually writing code though many process control engineers are well-versed in the process from experience and training alone. Engineers must be advanced at writing code, programming, and using the software necessary to run data for optimization.
Coding Within General Skills 
Technical support is easy to outsource, but it is an additional cost for any company while increasing the efficiency it taken from your control. However, process control engineers are more likely to use code in their daily activities for optimization production while retaining integrity and value. Other vital pieces of exposition that engineers are renowned for might include:
HMI programs 
Facility 
Supervisory control and data acquisition 
Procedures 
Troubleshooting 
Allen-Bradley automation 
Distributed control systems 
Project management 
Process control engineers don't often write the code for the programs they use because precise information is used for each niche field. The big umbrella of engineering engulfs all other focus areas but remains outside of the coding language necessary for each one. With no universal approach for each variant, coding is better off being digested and applied by process control engineers than written.
AS FEATURED ON:
AS FEATURED ON:
By: michaeljung

Clear and concise communication skills are essential for a process control engineer to be successful.

By: WavebreakMediaMicro

A process control engineer offers technical guidance on design and engineering issues.

By: Sergio Di Giovanni

A process control engineer must be able to work hands-on with equipment as well as face-to-face with customers.

By: uwimages

A process control engineer may study the current operations of his company in order to make improvements.

By: lianxun zhang

A process control engineer may design, optimize and oversee workers in a manufacturing facility.