What does a Process Engineer do?
Almost every product made undergoes some sort of process before reaching the consumer. A process engineer studies these processes in a wide range of production and manufacturing environments. She analyzes a process' efficiency, production quality and safety. She also may examine the ingredients and elements used and measure profitability. Based on her observations, she then recommends improvements or changes to processes.
A process engineer works in small to large businesses. She may be a salaried staff member or be employed as an independent contractor or consultant. Depending on the nature of the processes involved in the production or manufacturing operations and the focus of her assignment, she will evaluate different procedures. These normally involve chemical interactions, equipment design, or control system performance.
Whether on staff or working as a consultant, a process engineer normally focuses on one project at a time. This prevents the details of one process affecting her analysis of another, and it facilitates working one-on-one with the person in charge of the process being analyzed. Concentrated focus on one process at a time can also positively affect the engineer's analytical abilities.
If a production or manufacturing process is tagged for improvement, she may decide how the upgrade is best achieved. This may involve changes in the process itself, the addition or omission of materials used in the process, or implementing equipment enhancements or replacements. Sometimes the engineer will develop a new equipment design or devise an innovative manufacturing process that replaces the old one.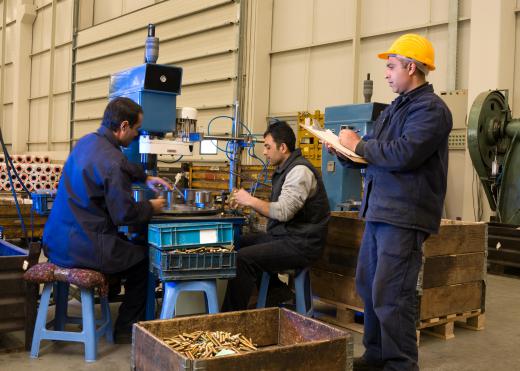 Excellent knowledge of production, manufacturing or assembly operations can be helpful to excel as a process engineer. This awareness can be beneficial in analyzing equipment design and understanding the concepts of heat and mass as they apply to process engineering. A solid background in troubleshooting intricate production systems also helps the engineer more easily develop solutions to improve productivity.
In addition to observing plant and production operations, a process engineer is generally required to document her work. She may prepare diagrams, charts, tables and reports to reflect her findings. These informational documents often are passed along to management and decision makers in the manufacturing and production departments for their review and comment.
In addition to preparing assessments and reports, a process engineer also regularly interacts with other personnel. For example, she may confer with subcontractors hired for equipment modifications and interact with chemical and maintenance engineers when analyzing processes, plant equipment and machinery.
AS FEATURED ON:
AS FEATURED ON:
By: christian42

Process engineers work to improve the efficiency of manufacturing or production facilities.

By: lnzyx

Process engineers study and plan production facets in places including manufacturing plants.

By: uwimages

A process engineer will regularly tour facilities and observe operations.

By: lianxun zhang

A process engineer may design, optimize and oversee workers in a manufacturing facility.

By: Maurizio Targhetta

An engineer may be hired to evaluate the effectiveness of specific parts of the manufacturing process.