What Does a Real Estate Trainee Do?
Becoming a real estate agent is time consuming and can be expensive. One way to test-drive the career before investing in classes and regional licensing fees is to work as a real estate trainee before taking the plunge. A real estate trainee provides support to real estate agents. He or she doesn't typically show or sell property, but gets involved in all of the details. After working as a real estate trainee for several months, he or she often begins working toward a real estate license.
A primary function of a real estate trainee is to track data. Agents often send out hundreds or thousands of postcards and brochures to the community, promoting the properties the agent has listed. In addition, Web sites encourage potential clients to provide their personal contact information. Responses to Web sites and mailings typically include the potential client's name, phone number, type of home, and price range.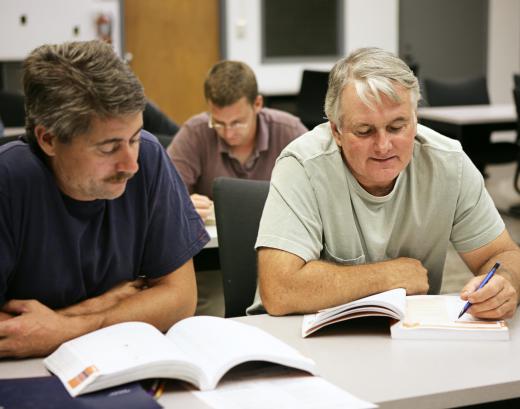 The real estate trainee gathers this data and enters it into a software program for easy retrieval by the agent. When a listed property comes on the market, the agent can enter information about the listing and extract from the database all potential clients looking for that type of property. The trainee is usually charged with maintaining the database, removing stale information, and adding new clients.
Agents depend on real estate trainees to map their showings. For example, an agent who is going to spend the day taking a client couple to look at several properties that are for sale will give the trainee the address for every property. The trainee maps the route the agent will take in showing each property. This eliminates wasted time and fuel by scheduling the property showings in the most efficient order.
Trainees often track all closing schedules. Making sure inspections are performed on time and ensuring that closing paperwork is complete are among the duties of a trainee. In addition, researching listings and presenting agents with available properties that fit their clients' needs is something the trainee can do. Basic administrative duties also fall under the umbrella of the real estate trainee. This includes answering phones, word processing, and handling office mail and faxes.
AS FEATURED ON:
AS FEATURED ON:
By: Lisa F. Young

An individual must work as a real estate trainee prior to securing a real estate license.

By: Ken Hurst

Training courses for real estate agents may be offered via computer through distance learning.

By: EyeMark

A real estate trainee may ensure that closing paperwork on a home is complete.