What does a Research Scientist do?
A research scientist conducts in-depth studies and analyses in their chosen field, generating new knowledge or validating existing theories. They design experiments, collect data, and interpret results, contributing to advancements in areas like medicine, technology, or environmental conservation. Curious about the daily life of a research scientist?
A research scientist is a scientific professional specializing in laboratory research. Other scientists are involved in specific applications for their particular branches of science. For example, most scientists involved with magnetic resonance imaging (MRI) deal with the maintenance of such devices and analyzing the data on individual patients. An MRI research scientist, by contrast, might focus on all MRI patient data in an attempt to improve the device's design or look for trends in certain kinds of patients. Research scientists work in specific areas of knowledge and are found in all fields of science.
The research scientist represents the classic image of the scientist, wearing a white lab coat and working in a sterile laboratory, examining samples under a microscope. This is, of course, a generalization; many research scientists do not work in such an environment, while others will clock numerous hours in such a lab. Many of the great scientific minds of history have been research scientists. Isaac Newton, Marie Curie, and Jonas Salk all fit the modern definition of a research scientist, although they may have had different professional titles. Albert Einstein, like many scientists, was a college professor and theorist in addition to his work in the field of scientific research.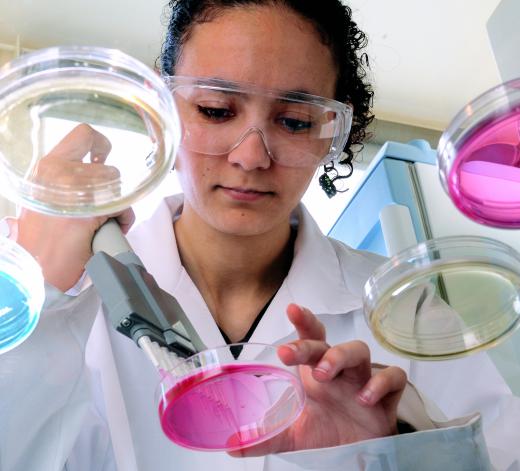 Research scientists plan and conduct experiments, many times if necessary, and gather the resulting information, called data. By careful examination of the data and comparison with similar experiments or established knowledge, they seek connections and relationships that may have not been previously observed. For example, exposing test animals to certain chemicals and then carefully observing the animals' health for days or weeks can reveal toxins or carcinogens that were previously unknown.
Research scientists may compare data with their colleagues in different locations or even with studies carried out in seemingly unrelated fields. The work of the research scientist may seem tedious and repetitive, but the results can include vital advances in fields such as medicine, chemistry, and environmental science. Those who have significantly advanced their fields can be rewarded with research grants, book publications, or even merit awards such as the Nobel Prize.
Increasingly, the work of the research scientist involves computer analysis of data. Computers can greatly increase the efficiency of such work, discovering trends and hidden connections that may have taken much longer or eluded discovery otherwise. Those working in academic settings may present their findings as independent research papers or articles in science publications. Research scientists in private industry may be required to share their discoveries only with their employers.
AS FEATURED ON:
AS FEATURED ON:
By: KaYann

Research scientists often work in a research lab.

By: Georgios Kollidas

Isaac Newton was one of the world's great research scientists.

By: Vasiliy Koval

A research scientist may work with microscopes and other lab equipment.

By: EPSTOCK

MRI research scientists may analyze individual scan images to reach conclusive results.

By: 06photo

Increasingly, the work of the research scientist involves computer analysis of data.