What Does a Server Administrator Do?
A server administrator is a person responsible for a company's computer servers, network and workstations and performs a variety of tasks that keep the company's systems running successfully. He or she monitors the computer systems and network for problems and troubleshoots any problems that arise. Server administrators might work with servers using various operating systems and usually train or obtain certifications for each vendor. A company's computer systems are usually a critical part of the organization, so a server administrator must also be prepared for any potential disaster and have a recovery plan in place.
Server administrators plan and manage the operating systems on the company's servers and might install programs, add users, update the operating system with the latest patches and manage the server's security policy. Each server operating system has its own way of performing these tasks, so server administrators have to be trained in each operating system and might be required to obtain a vendor certification. He or she is also responsible for knowing how the components in the servers work and often holds a college degree in information systems, computer science or information technology. Many server administrators rise to their position after working in a support or networking role and benefiting from their previous experience.
A company's workstations must communicate with the server, so a server administrator also configures and manages the company network. This includes setting up the company's domain, installing new network services and monitoring the network for potential problems. He or she usually uses the operating system's monitoring utilities to keep an eye on data flowing in and out of the network and is usually also responsible for keeping the network secure; therefore, a network administrator might also respond to network security concerns by tightening the network's firewall settings.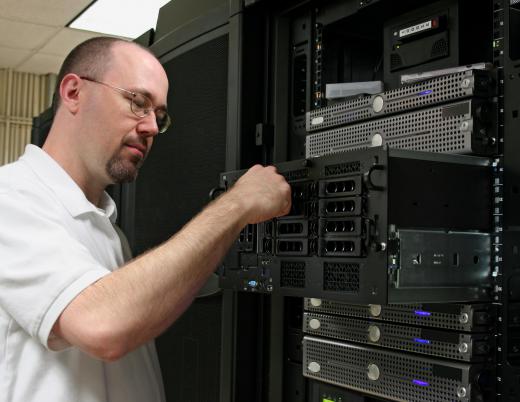 Troubleshooting is a necessary skill required of a server administrator, so the server administrator needs to be able to replace or add new hardware to the servers, workstations and network devices. He or she may also be responsible for support tickets throughout the organization and is expected to repair any issues in a reasonable period of time. Critical problems can occur outside of normal business hours, so some server administrators work around the clock to ensure the company's computer systems keep working properly. He or she might also perform data backups, install operating system updates and perform maintenance tasks when others are not using the systems.
AS FEATURED ON:
AS FEATURED ON:
By: ambrozinio

Server administrators must be able to locate and replace faulty hardware.

By: Amy Walters

The server administrator needs to be able to replace or add new hardware to the servers, workstations and network devices.