What does a Technical Director do?
A technical director typically is responsible for providing technical support for theatrical, media, or software companies. The director works with equipment that requires specialized training to operate, and is usually considered an expert in using and coordinating the use of this equipment. He or she supervises teams or crews — usually hired by the director — that are trained to perform technical functions. Typically, the director is a company leader that works in conjunction with managers, directors, clients, and staff to make sure that all of the technical needs are met. Usually a highly creative individual, the technical director can also be tasked with identifying technical problems and providing innovative solutions.
In relation to theater, the technical director is hired to oversee the technical functions of a facility. He or she also maintains a facility schedule and performs facility maintenance. A theater technical director designs, operates, and/or constructs lighting, sound, and scenery for any group that uses the theater. Generally, the director will select crew chiefs to oversee individuals on each technical crew and trains crew members in skills that will allow them to function as a team during the course of a production.
Typically, the director of the performance group using the facility determines the technical needs related to a show. The director then communicates those needs to the technical director, who produces designs to show to the director. Once the designs are approved, the technical director uses his or her crews to build or develop the designs.
Technical rehearsals are usually conducted with the director coordinating the efforts of all crews. In production, the director supervises the crew chiefs and provides expertise to address technical problems when they arise. The theater technical director serves each performance group from the time they enter the theater until the final performance has been completed.
In the software industry, the technical director is a manager that trains people with a company on how to operate technical equipment. He or she typically is responsible for coding, as well as maintaining a code library. Additionally, the director usually works with program language, Internet systems, and software compatibility. The director and his or her team are responsible for the identification of issues related to software function and for developing innovative approaches to resolve those issues. He or she provides technical support to clients, teams, and individuals connected to the company while coordinating work with managers and supervisors.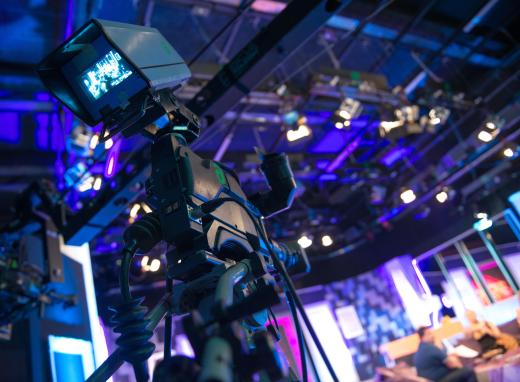 Film industry technical directors work in film or television. Like in theater, film industry directors usually work at a facility and oversee all operations within that facility. The director typically is an expert in the operation of all film and video equipment required for use in a production, including cameras, generators, editing equipment, and lighting. He or she determines the needs of a production in collaboration with the director, then hires, trains and manages crews to support the production's technical operation. The director typically coordinates his or her efforts with managers of other departments, and develops and provides procedural policies for use by all crews, teams, and managers.
AS FEATURED ON:
AS FEATURED ON:
By: Sergey Lavrentev

A technical director in the film industry may be called on to find innovative solutions to lighting issues.

By: fred goldstein

A technical director typically is an expert in the operation of all film and video equipment required for use in a production.

By: DeshaCAM

Technical directors in television will often handle live productions.

By: gstockstudio

Technical directors might help a film production by looking for mistakes.