What does a Telemetry Nurse do?
A telemetry nurse monitors, records, and interprets data about a patient's vital signs. He or she also provides patient care, educates patients about their conditions, and administers medication. Most of the time, these nurses work with patients who have ongoing health conditions or who are just out of surgery or intensive care. The training for this position varies regionally, but a person almost always has to become a Registered Nurse (RN) before he or she can work in this field.
Duties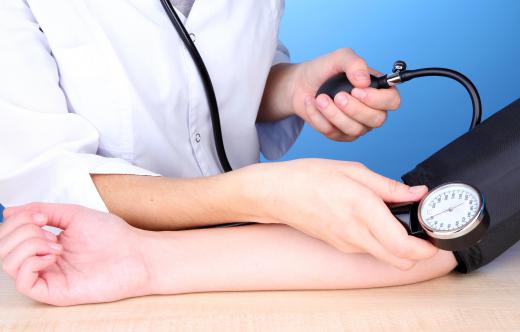 Telemetry nurses use different types of technology to monitor patients' blood pressure, blood oxygen saturation, breathing patterns, and heart activity, among other things. They also record and interpret the data from the monitors, and use it to assess a patient's rate of recovery or to help doctors determine treatment methods. They commonly dispense medication, and must keep track of all the different medications a person is on to avoid drug interactions. In addition to this, they provide general patient care, assist doctors with procedures, and deal with any emergencies that come up. As patients recover, a telemetry nurse also educates them about their conditions and how to avoid relapses or potential problems after they leave the healthcare facility.
Work Environment
Work as a telemetry nurse is generally fast-paced, as most are assigned around five patients at a time. Most of the people they care for are in step-down units, which means that they're not so ill as to need intensive care, but they still have a significant risk of complications. Though nurses do a lot of bedside work with patients in this position, they don't spend a lot of time with any one patient, since most only stay in step-down units for a maximum of 10 days. Most patients in these units need around-the-clock monitoring, so healthcare facilities usually hire telemetry nurses for all shifts.
Training
Almost all telemetry nurses are RNs, and most have at least a bachelor's degree in nursing or a closely related subject. In the US, people wanting to specialize in this field must first pass the National Council Licensing Examination (NCLEX) and any other state requirements to become an RN, and then complete a specified number of hours of bedside care experience. After this, they are qualified to take the Progressive Care Certified Nurse (PCCN) exam. If they pass this, then they can become a registered telemetry nurse. Though some choose to specialize in one area, such as the monitoring of heart activity, others do not.
AS FEATURED ON:
AS FEATURED ON:
By: Africa Studio

A telemetry nurse uses different types of technology to monitor a patient's blood pressure.

By: DenisNata

Telemetry nurses dispense medication and attempt to avoid drug interactions.

By: Leah-Anne Thompson

A telemetry nurse is often tasked with monitoring a patient's pulse oximetry levels and recommending supplemental oxygen as required.

By: George Wada

Almost all telemetry nurses are registered nurses.

By: Africa Studio

A telemetry nurse uses a pulse oximeter clipped to a fingertip to measure oxygen saturation.

By: Arkady Chubykin

Patients may be moved to a step-down unit after they have been stabilized through surgery.

By: sudok1

Telemetry nurses ensure critically ill patients in the intensive care unit are monitored around the clock.

By: dmitrimaruta

A telemetry nurse is responsible for monitoring the vital signs of patients.

By: spwidoff

A telemetry nurse may work with a doctor to determine treatment methods.

By: Sandor Kacso

Most telemetry nurses work with patients who have ongoing health conditions.