What does a Tourism Manager do?
A tourism manager, also referred to as a tourism marketing manager, is in charge of procuring sales of tourist packages as well as arranging tour packages for clients. The role of a tourism manager is very fluid and capitalizes on the talents of the individual professional. Tourism and hospitality tend to take a hit during economic recessions, so it is important that a tourism professional develop outstanding sales skills to entice people to pay money for exciting vacations around the world.
The marketing aspect of tourism jobs involves creating innovative programs that attract visitors to a new locale. Marketing programs could include developing media content on a website which highlights the advantages of a specific tourist attraction. Bolstering local convention centers and marketing their benefits to prospective trade conventions, shows, and conferences could also be a another development program for which a tourism manager is responsible.
One very important aspect of a tourism manager's job is to keep track of metrics and analytics which clearly show the state of tourism agency's sales and marketing efforts. Monitoring how many tourists visited an attraction, how many used the tourism agency's services within a specific period of time, and how much money these clients spent are all part of the records that the tourism manager keeps. This analytical data can be used to make projections on future marketing programs and to direct changes on how best to approach prospective clients and tourists.
Advertising efforts may also be under the purview of the tourism manager. Writing search engine advertisements is often an effective way for a tourism management office to make tourists aware of its tourist packages and services. Other online advertisement collateral may include banner ads, video ads which feature tourist attractions and activities, and attractive copy which hooks customers with descriptions of exotic locations and interesting excursions.
Communication skills are vital for a tourism manager. Tourism managers use the art of persuasion to secure tourists for various vacation packages. They must also know how to appeal to business leaders and owners who rely on tourism to increase their profits and keep their stores or services running. Communication between these different factions requires grace, openness, and a friendly disposition, no matter the circumstances.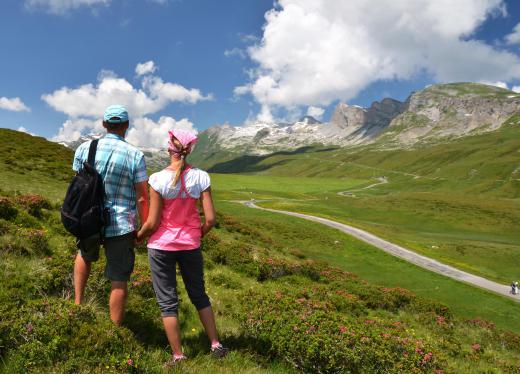 As far as education is concerned, most positions will expect an applicant to have at least a high school degree. Professionals with a bachelor's degree, especially one in tourism and hospitality or a related field, are highly favored. These tourism professionals are more likely to secure tourism jobs at the managerial and executive level.
AS FEATURED ON:
AS FEATURED ON:
By: alexxich

A tourism manager helps arrange and sell tour packages, like a trip to China to visit the Forbidden City.

By: LuciaP

Tourism managers should know about local attractions, such as lighthouses.

By: phtphoto

Tourism managers plan trips around popular destination spots.

By: HappyAlex

Tourism managers plan destination visits based on what travelers are interested in.

By: elesi

Tourism managers help people find points of interest at their travel destinations.

By: vgstudio

Tourism managers may plan outings at local night clubs for young tourists.

By: CedarchisCociredeF

Tourism managers might familiarize themselves with popular cultural festivals.

By: pressmaster

Tourism managers should be familiar with popular hotspots.

By: bepsphoto

Tourism managers can design vacation packages to suit individual tastes.

By: Maya Kruchancova

Tourism managers may suggest different bars for travelers to visit.