What Does a Ward Secretary Do?
A ward secretary plays a crucial role in healthcare settings, managing administrative tasks like scheduling appointments, maintaining patient records, and coordinating communication among medical staff. They ensure smooth operations, contributing to efficient patient care. But how does one become a successful ward secretary?
A ward secretary is basically responsible for keeping a nurse's station in a hospital running smoothly by carrying out duties assigned by a registered nurse (RN) or other manager. Ward secretaries often communicate patient information to staff in other hospital departments as well as to patient visitors. In most hospital ward secretary positions, reception duties as well as clerical administration work are expected.
Many ward secretaries use a computer to enter updated information from doctors, nurses and employees in other hospital departments into patient records. While they don't typically transcribe doctors' notes into report form like medical transcriptionists do, ward secretaries may have to keyboard information from reports into other documents as instructed by a supervising RN. For this reason, an understanding of medical terminology, pharmacology and common surgical procedures is often expressed in ward secretarial job descriptions. Registered nurses have a ward secretary to complete paperwork in order to have more time for dealing directly with patients.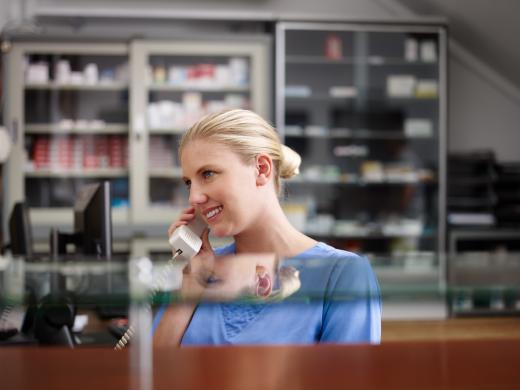 Maintaining up-to-date patient records is an important part of a ward secretary's job, as medical staff require the latest and most accurate information on charts and other documents when treating patients. Many ward secretaries receive on-the-job training from more senior clerical nursing station staff. A senior ward secretary may assist registered nurses in planning administrative and organizational procedures for the nurse's station.
Answering the telephone and answering email correspondence are other common ward secretarial duties. Ward secretaries must often direct hospital visitors to the correct patient rooms. He or she may keep in regular communication with a patient's family member to provide updates about the person's condition. Answering questions about the patient for a family member designated to receive updates is a common part of most ward secretarial jobs. A ward secretary often works right at the nurse's station desk to provide reception duties and direct visitors in person to patients' rooms.
Rather than work in a hospital setting, ward secretaries may also be employed in other medical environments. For instance, health and wellness centers as well as community-based organizations often employ ward secretaries. Doctor's offices and walk-in medical clinics may be other work settings for ward secretaries. Ward secretarial job duties may vary from those in most hospital environments, but reception as well as keeping patient files and paperwork updated is usually expected. In these environments, the job title may be a medical administrative assistant rather than ward secretary.
AS FEATURED ON:
AS FEATURED ON:
By: diego cervo

A ward secretary is responsible for keeping a nurse's station in a hospital running smoothly.

By: Kurhan

Doctors stay in touch with the ward secretary regularly to ensure all patients are being treated properly.

By: Tom Wang

A ward secretary may be tasked with updating patient records with the latest information.

By: mindweb2

Ward secretaries may type up patient orders for nurses.

By: diego cervo

A ward secretary must have excellent communication skills.

By: Tyler Olson

A ward secretary may assist patients' families.