What Does an Electrical Design Engineer Do?
An electrical design engineer works to research, design, plan, and develop new electrical systems and devices. A person with this title may also help with conducting research necessary for the design and development of these systems and devices, and may have a role to play in the manufacturing process. For example, a person with this title might help supervise the process of manufacturing devices and systems, or he may contribute as a consultant. A significant part of his job may also include testing his designs to ensure that they work as expected and then taking steps to improve the designs on an as-needed basis.
In most cases, a person with the title of electrical design engineer works on designing electrical devices, components, and systems. He uses his knowledge of electrical engineering to do so and usually draws the designs on which he is working. Typically, he uses computer skills in this job as well, and much of his design work may be accomplished via computer. He often works on designs until they are perfected, which usually involves testing them as well. If a test reveals that a design needs more work, an electrical design engineer generally continues working on it until it is perfect.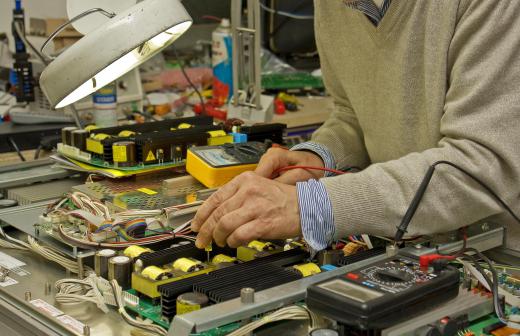 Planning and research are also important parts of an electrical design engineer's job. He may have the job of planning various types of design-related activities and researching the best design options. His planning could also include financial matters. For example, he may prove instrumental in creating budget projections for a project. Likewise, he might have the job of planning a project in a manner that allows him to complete it without exceeding the established budget, and his planning responsibilities may extend to those regarding the manufacturing and installation processes.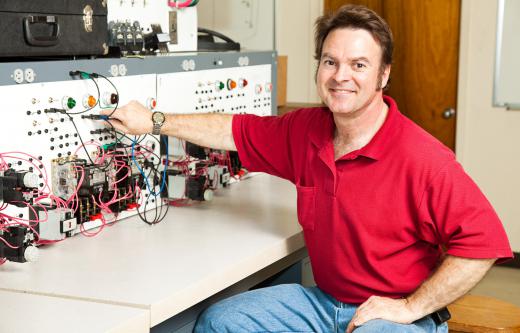 Often, a person who becomes an electrical design engineer also performs supervisory jobs. For example, he may supervise other engineers or staff members as they work on a project. He might also help oversee manufacturing and installation of a design in order to ensure that it proceeds as expected.
To become an electrical design engineer, a person usually needs a bachelor's degree in a field such as electrical, mechanical, or design engineering. Earning a master's degree may further improve a person's chances of landing a job. Additionally, an individual typically needs a range of skills, including those related to evaluating technical information, working on a team, analyzing details, and communicating with other engineers and staff members for this job.
AS FEATURED ON:
AS FEATURED ON:
By: Sergio Di Giovanni

Some electrical engineers focus on designing and building electronics.

By: Lisa F. Young

Many engineers gain knowledge of electrical design through hands-on training as a part of their education or through an internship program.

By: auremar

Planning and research are important aspects of an electrical engineer's job.