What does an Embroidery Designer do?
An embroidery designer creates craft kits and designs patterns for crafters to learn needlework. She may work in the fashion world, either producing hand embroidery designs for couture or mass-produced, machine embroidery designs for commercial manufacturers. Typically, an embroidery designer will need a degree in industrial design and experience in the graphic arts and pattern making.
An embroidery designer may choose to work as a freelance designer, creating designs that she can sell to clients. She may also embroider garments or other materials and sell those directly to customers at craft shows or online. She can also be hired to work for a fashion house, hand stitching designs onto couture garments.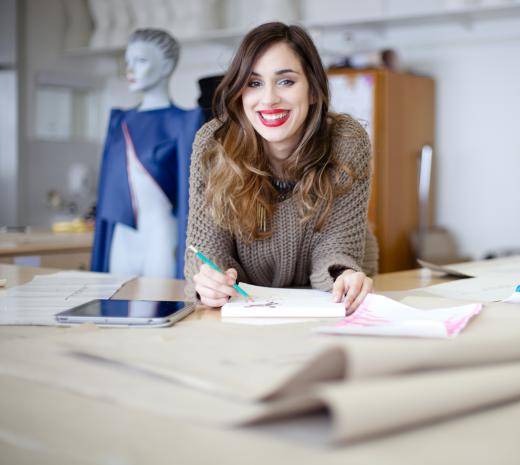 In some instances, an embroidery designer is responsible for the design from the initial research and brainstorming to the finished product. She may sketch the initial design by hand or use a computer-aided design program to develop and draw the design. She'll then create a sample, or swatch, of the design and make any adjustments to the design based on how the swatch turns out. If the embroidery design is meant to go on a garment or other textile, she'll figure out how to position the design so that it looks best.
In most cases, an embroidery designer should earn a bachelor's degree in commercial or industrial design from a reputable design school. During college, an embroidery designer will learn the basics of design, plus how to use computer-aided designs programs. It is up to the designer to keep up with the latest developments in embroidery software and design programs after completing his training.
Embroidery designers need to have a good sense of aesthetic and a good eye for pattern and design. They should have the ability to draw, even if their career involves using a computer to draft designs. Since designers commonly work with others creating fashions, craft kits, and other textiles, they need to be able to work well with others in a collaborative setting.
An embroidery designer who is in business for herself or who freelances is also responsible for overseeing the day-to-day operations of her business. She needs to constantly reach out to new clients and have excellent customer service skills to deal with clients who may be less than satisfied.
Embroidery designers who are advanced in the field may use their skills to teach others. Some designers teach embroidery or stitching courses at local community centers or art schools. Others may teach at a college.
AS FEATURED ON:
AS FEATURED ON:
By: berc

An embroidery designer could be hired by a fashion house.

By: Moreno Soppelsa

An embroidery designer may create patterns on a computer for use with automated industrial embroidery machines.

By: Olga Kovalenko

An embroidery designer creates designs to sell to clients.

By: Louella Folsom

A punch needle can be used for some types of hand-made embroidery.

Embroidery is often used to decorate quilts and linens.

Kasuti is a type of embroidery that involves elaborate patterns.