What does an HVAC Mechanical Engineer do?
A mechanical engineer specializing in heating, ventilation, and air-conditioning (HVAC) is called an HVAC mechanical engineer. The engineer oversees the design, installation, and operation of systems that heat, cool, and ventilate indoor spaces. An HVAC mechanical engineer typically has mechanical, electrical, and plumbing expertise and is familiar with building codes and international standards governing HVAC equipment.
An HVAC mechanical engineer optimizes indoor air quality by controlling temperature, humidity, and air flow in a building, a complex of buildings, or a single room. Heating and cooling systems make indoor spaces more comfortable. Ventilating equipment keeps air from becoming stale and removes odors.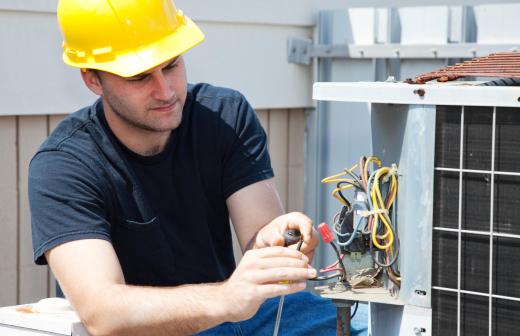 Engineers commonly plan new projects for their clients. This means creating a step-by-step sequence of all the tasks needed to accomplish a project. For example, an HVAC mechanical engineer might develop a plan for designing and installing a new HVAC system.
During the design phase, the engineer selects and recommends the HVAC components to be used in the project. Sizes and loads are calculated for pumps, pipes, and other equipment. A proposed layout is developed for the entire system, including any ductwork and piping. Schematics, or drawings, are prepared to show the equipment and system in detail. The engineer performs cost estimates to determine how much the project will cost.
An HVAC mechanical engineer manages equipment installation to ensure that the equipment is placed and connected in accordance with the design plan. Performance tests are conducted to confirm the new system operates properly. The engineer also develops a schedule for regular maintenance of the HVAC equipment.
Some clients need particular rooms in their buildings to have specialized HVAC systems. An example is a room containing a lot of running computers. Computers give off heat when they operate. An HVAC mechanical engineer would design a separate cooling system for this room to ensure that it does not become overheated and, in the process, ruin the computers.
Clients with existing HVAC systems might hire an HVAC mechanical engineer to do a performance evaluation. This involves inspecting the HVAC system, testing equipment, and reviewing operating data and maintenance records. The engineer recommends options for improving the performance of existing systems and reducing energy costs.
HVAC mechanical engineers must be familiar with local building codes and with industry standards. The American Society of Heating, Refrigerating, and Air-Conditioning Engineers (ASHRAE) publishes standards and guidelines for the HVAC industry in the United States. Other countries may have their own standards or follow the ASHRAE standards.
AS FEATURED ON:
AS FEATURED ON:
By: Lisa F. Young

HVAC mechanical engineers oversee the design and installation of building HVAC systems.

By: ArenaCreative

Design, installation and operating issues are handled by HVAC mechanical engineers.

By: Andres Rodriguez

HVAC mechanical engineers must be familiar with local building codes and industry standards.

By: Johan Larson

An HVAC unit can improve the air quality in an area.

By: auremar

Most companies require HVAC engineers to obtain an undergraduate degree in mechanical engineering or a similar field.

By: itardiusz

Proper HVAC systems are important to maintain good air quality.