What does an Industrial Electrician do?
The job of an industrial electrician involves testing, repairing, and maintaining electrical equipment. Most industrial electricians obtain full-time positions with large employers, though some electricians work on an independent contract basis. Since electrical equipment is now more common than ever before, industrial electricians are in relatively high demand.
Employers that hire industrial electricians include steel producers, electrical firms, motor vehicle manufacturers, mining companies, and some parts manufacturers. While basic electrical knowledge is essential in order to excel within this industry, those electricians that make a point of learning about robotic equipment often have an edge over job competition.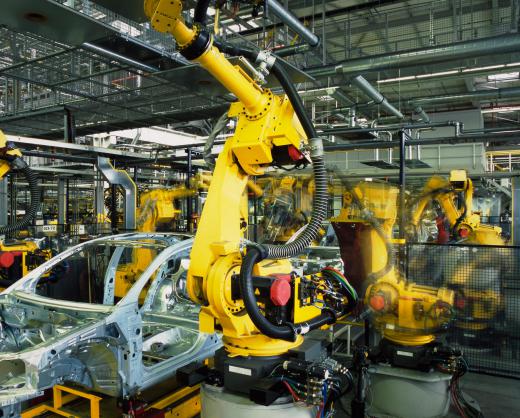 Robots are increasingly popular within the manufacturing world. While reliable, robots require repair and maintenance frequently. Thus, an industrial electrician that specializes in robotic repair will often find high-paying jobs. Still, prior to honing in on one specific electrical skill, all industrial electricians must successfully complete proper schooling.
In order to become an industrial electrician, a high school diploma must be obtained. Courses that should be completed during high school include basic math and science courses. Following high school graduation, aspiring electricians must complete 9000 hours of an apprenticeship program. Once this program has been successfully completed, candidates must then pass a basic examination.
In addition to necessary schooling, industrial electricians must also be able to work under difficult conditions. Often, electricians will have to climb machines, work in confined spaces, and crawl into tight spots. Personality-wise, an industrial electrician should be able to effectively communicate with co-workers and plant managers. Understanding blueprints and visualizing spaces is also a large part of being an industrial electrician.
While most electricians work set hours, sometimes shifts, it is not uncommon for an employer to contact an electrician during off-hours. Whenever a machine needs to be repaired, electricians are expected to attend to that machine right away. Thus, this job can be stressful at times.
Rarely will an industrial electrician be promoted to another position. When a promotion does occur, an electrician's status can be elevated to include various managerial tasks such as overseeing projects and supervising other junior-level electricians. Most promotions within this field only occur following five years spent with an employer.
Industrial electrician jobs can be easily found by searching government websites, calling manufacturing plants, and seeking the help of job placement agencies. Industrial electricians that make a point of continuing their education, keeping abreast of current technologies, and learning as much as possible about the manufacturing industry will thrive.
AS FEATURED ON:
AS FEATURED ON:
By: computer engineer

Industrial electricians often maintain robots.

By: Kadmy

An industrial electrician is responsible for ensuring that electrical systems are in pristine working order in an industrial setting.

By: Greg Pickens

An industrial electrician may work for a steel producer, an electrical firm or even an automotive company.

By: lianxun zhang

A wide range of industries employ industrial electricians at their plants.

By: michaeljung

A high school diploma must be obtained in order to become an industrial electrician.