What does an Industrial Engineering Technician do?
An industrial engineering technician observes operations at a factory, manufacturing plant, or warehouse to ensure production efforts are as efficient and safe as possible. He or she helps to determine the need for equipment renovations, new assembly line strategies, or additional labor on the factory floor. Most industrial engineering technicians work as assistants to licensed engineers, performing physical inspections and tests on equipment according to their supervisors' instructions.
When an engineering team is contracted to evaluate a company's production efficiency, an industrial engineering technician usually spends several days reviewing equipment manuals, technical documents, and employee expectation forms. He or she can then visit the actual factory to see if machinery and systems are in proper working order and being operated in accordance with technical instructions. Under the guidance of an engineer, a technician may decide to shut down a particular piece of equipment to inspect it more carefully. He or she may determine that a machine is outdated and needs to be replaced or that laborers need additional training to improve their workmanship.
An industrial engineering technician might simply discuss his or her findings with the engineer or organizes data into an official report for company owners. A technician makes suggestions on how productivity can be enhanced. After findings have been reviewed, he or she may be asked to research newer technologies and give expert opinions on which machines and systems should be installed.
Operating procedures are not the only factors in running an efficient factory. An industrial engineering technician may also review the effectiveness of shipping and receiving efforts, sales departments, and even human resources divisions within a company. Technicians who oversee such procedures generally work more independently than technicians who focus on manufacturing and equipment. A professional may design his or her own methods of assessing quality, safety, and cost-effectiveness.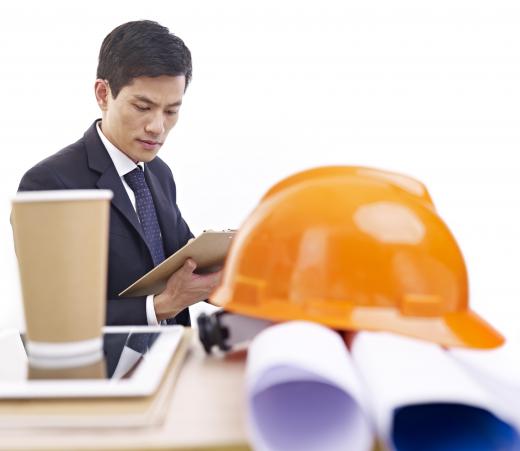 A person who is interested in an industrial engineering technician can develop the skills and knowledge needed in a community college or vocational school program. Most schools feature technician training programs that last between six months and two years. During the classroom phase of a program, a student learns about the principles of business administration, industrial production, quality control, and occupational health. A student can also gain valuable hands-on training with the testing equipment and techniques he or she will use in the job. After earning a degree, an individual can apply for positions at large factories, corporation headquarters, engineering consulting firms, and government agencies.
AS FEATURED ON:
AS FEATURED ON:
By: .shock

Industrial engineering technicians monitor the efficiency of factories and other industrial plants.

By: lianxun zhang

Engineering technicians serving as consultants will often spend several days reviewing equipment manuals, technical documents and related data.

By: imtmphoto

Industrial engineering technicians help determine equipment, labor, renovation and other needs of a manufacturing or warehouse facility.

By: uwimages

An industrial engineering technician may tour facilities and observe operations to ensure processes are as efficient as possible.

By: Kadmy

An industrial engineering technician may be responsible for performing maintenance and calibration on manufacturing equipment.