What Does an Instructional Technologist Do?
Instructional technologists are professionals who design technology-based curricula that teachers can use to meet their goals when educating students. These individuals must be extremely computer-savvy and detail-oriented. An individual who wishes to become an instructional technologist typically must complete a four-year bachelor's degree in this field. He or she has the responsibility of helping instructors to determine the types of technologies that they need in the educational setting, and then teaches educators and students how to use them. The professional also researches new technologies that he or she can introduce and must stay current on industry software.
A chief duty of an instructional technologist is to help teachers to decide what types of technologies that they need to fulfill their classroom goals. This type of professional meets with instructors and subject matter experts to determine what courses need to be designed or even re-created for teaching online courses or hybrid classes, which feature both on-site and Internet-based instruction. He or she must be creative and needs to have strong communication and listening skills when working with faculty.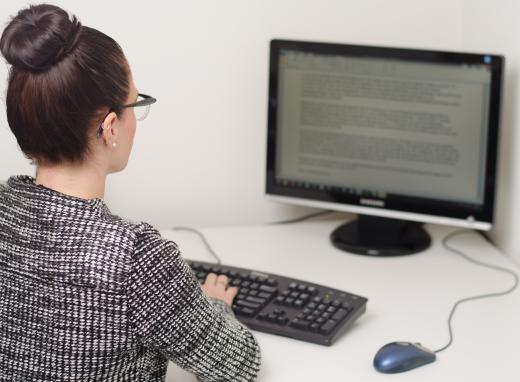 Another major responsibility of an employee in this field is to complete training and quality assurance activities. An instructional technologist teaches faculty how to use the curricula programs that he or she designs. In addition, he or she might have to educate students about to use a new online course format via a workshop. The field professional further monitors his or her designed products to make sure that the quality of instruction that he or she provides meets established standards and that the technological systems used to deliver training continue to work properly.
An individual in this career area must always be willing to strive toward improving his or her work. He or she needs to complete research to find out what new types of technologies are available in the market that can help his or her clients to better complete their educational jobs. Coverage of new products such as digital cameras or digital whiteboards — the modern version of traditional chalkboards — often takes place at industry conference seminars that are designed for a person who works as an instructional technologist.
Staying up-to-date on software and programming languages used in this vocational area additionally constitutes a task in this industry. For example, professionals in this line of work often use computer languages designed to create user interfaces, or points where humans and computers interact. In addition, they must master languages created to draft documents for academic purposes. Software in this field constantly evolves, so an instructional technologist has to be willing to complete continuing education courses to stay current on developments in these programs.
AS FEATURED ON:
AS FEATURED ON:
By: nielshariot

Instructional technologists are professionals who design technology-based curricula that teachers can use to meet their goals when educating students.

By: pressmaster

Instructional technologists may develop software specifically targeted at young children.

By: SolisImages

Instructional technologists may teach online courses.