What Does an Integration Specialist Do?
An integration specialist works with computer systems to facilitate clear communication between software, applications and hardware over a variety of networks. Integration specialists usually work for large companies that have extensive computer networks and very high technology needs. Wages and benefits can depend on experience, training, certifications and industry. More training and experience might create better job opportunities for an integration specialist.
Schools, scientific research facilities and large companies all have a need for integration specialists to work on their computer systems. These information technology professionals can install and update programs and applications to make sure that communication across the system is smooth. If a conflict develops, such as when two programs cannot be run at the same time, the integration specialist needs to determine why it is happening and develop a plan for addressing the issue. This might include uninstalling or altering software to eliminate the conflict.
Integration specialists also work with numerous types of computer systems and mobile devices to get them all to work within the system. This can include desktops, laptops, personal digital assistants, smart phones, tablets and so forth. Personnel at a company usually expect to be able to use multiple devices interchangeably on the system without lag, conflicts or access issues. The integration specialist must make sure that this is possible while also protecting the security of the system. Integration specialists might consult with the security staff to discuss system needs and meet those needs through cooperative efforts.
This job usually requires substantial experience with networks, including local area networks and Internet connections. Some facilities also need personnel who are comfortable with instruments and tools. This can include cameras, scientific instruments and so forth, because all sorts of instruments need to connect to the computer system to communicate. The integration specialist can service these instruments, install appropriate drivers and software handlers and test them to confirm their functionality. This also requires determining whether instruments can communicate smoothly with controllers and other programs, including remote ones.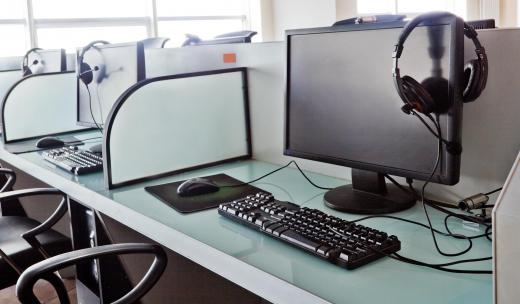 It usually is necessary to have a bachelor's degree in computer science to become an integration specialist, and some people choose to pursue master's degrees to expand their experience and familiarity with the subject. Some pursue certification in specific systems and protocols. This can help them develop marketable skills. For some jobs, certification might be required, and in others, it is preferred. An applicant who has multiple certifications might stand out from the crowd and have a better chance at success.
AS FEATURED ON:
AS FEATURED ON:
By: bloomua

An integration specialist might work with tablet computers.

By: diego cervo

A technology integration specialist is often charged with selecting software programs designed to help a company operate more efficiently.

By: 06photo

Integration specialists create networks for office computers to work together.