What Does an Interactive Developer Do?
The role of an interactive developer is a skilled position. Developers usually program materials for websites, mobile devices, CDs, and DVDs. Such a position typically requires education, training, and experience. Interactive developer jobs combine creative and technical skills, and the field continues to evolve as technology advances.
Interactive developers frequently need a range of skills so that they can effectively combine graphics, audio, and video elements into a coherent whole that engages users. In some organizations, the developer may also need to create these elements. Along with creating and combining these various elements, the developers will program the application's interactive aspects. The interactive materials are usually made available through websites, mobile devices, CDs, or DVDs.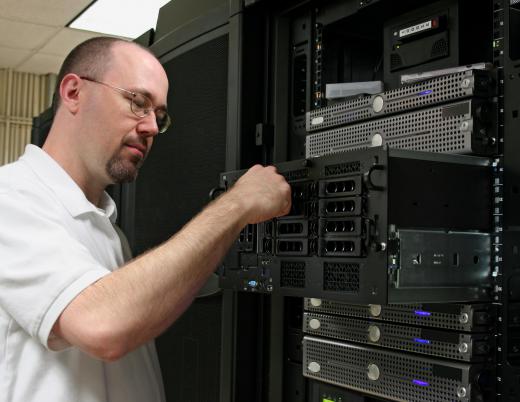 Developers will need specific skills according to the media in which they specialize. Web interactive developers often must be skilled not only in creating animations but also in HTML, CSS, Javascript, AJAX, and other web-based technologies. They must also be aware of browser differences. Some organizations may include web-server maintenance in with the interactive developer duties. Those who specialize in developing for CDs and DVDs may not need web technology skills, but they will need to master multimedia authoring software.
An interactive developer job description may request a mix of education, training, and experience. Depending on the nation, region, and the demands of the position, the job description may call for a four-year degree in a related field, though occasionally a two-year degree may be sufficient. Many potential employers often request several years of experience in the particular software development languages or packages used at their organization.
Regardless of the type of media being created, the interactive developer position usually combines both creative and technical skills. This position often works as part of a team. The developer must often communicate effectively with both creative and technical coworkers and may need to communicate with managers and clients. An ability to deal with deadlines and pressure can also be a valuable skill for interactive developers because many of the projects they work on may need to be launched in a timely and cost-effective fashion to meet the organization's objectives.
The interactive development field, as is true of many technical positions, is constantly evolving. Ideally, a person in an interactive developer job will enjoy learning and keeping up on the newest technology. Along with a love of learning, a love of problem-solving and troubleshooting will also be helpful.
AS FEATURED ON:
AS FEATURED ON:
By: Amy Walters

Some organizations may include web-server maintenance in with the interactive developer duties.