What does an Office Manager do?
An Office Manager is the backbone of an organization, ensuring smooth operations by overseeing administrative tasks, managing staff, and coordinating office activities. They are the unsung heroes who keep the wheels turning. But what are the specific tasks that make up their day-to-day work?
An office manager manages workflow, keeps records, and supervises employees while generally facilitating the work performed in an office. The precise duties performed may depend on a number of factors, including how many employees there are and the scale of the business. An office manager's job is usually very similar between fields because he or she is responsible only for other employees, not for the actual work done in the office. In most cases, this position is not the highest level of management in the company, and this employee may report to higher managers or owners. Small companies may have office managers, but these are sometimes merely advanced employees who perform the functions of an office manager in addition to their own duties without any special qualifications.
An office manager is usually a person with a degree in management or business. He or she is generally responsible for making sure that employees do work in the most efficient manner possible and that productivity is at the highest level possible. The office manager usually does this by assigning work effectively, touching base with employees frequently, and keeping records of productivity. This position is also often responsible for keeping track of budgets, files, and employee records.
Given that the manager only makes it easier for employees to accomplish their work, he or she does not necessarily need to understand the work that is being done in the office in order to manage it effectively. For example, a person with a management degree but no experience with computers could still manage an office that designs software. Even so, it is often helpful to have experience in the kind of office one works in, both because it gives lower-level employees confidence in one's competence and because it may help with managing workflow.
One of the major responsibilities often given to office managers is the hiring of new employees and the termination of old ones. The manager may also be responsible for making sure all employees are informed of company policies and that they sign all necessary legal documents related to employment. Making sure that the office is run in full compliance with laws regulating employees is one of the office manager's most important duties.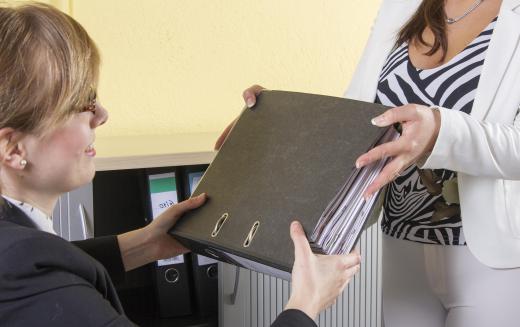 Smaller companies often have a need for management in the office without the resources to hire a person solely to serve as an office manager. In these cases, the owner may fill the function of a manager, or a high-level employee may work and supervise others. Not every office requires this kind of management, so there are offices that function without a manager's supervision. When applying for office manager jobs, the exact requirements of the position are usually listed within the job description. It is important to look at these exact requirements, because every office wants something slightly different from a manager depending on what has succeeded in the past.
AS FEATURED ON:
AS FEATURED ON:
By: Monkey Business

An office manager oversees day-to-day office operations.

By: Goran Bogicevic

Office managers make sure than employees do their work in the most efficient and productive manner.

By: Unbreakable

Managers seeking to optimize operations may generate workflow documents.

By: Rawpixel

An office manager may be involved in supervising other employees and facilitate the work performed in the office.