What is a Building Cleaner?
A building cleaner, commonly referred to as a commercial janitor, is a person who is responsible for cleaning and maintaining all areas of a commercial or industrial building or group of buildings, also known as a complex. She is normally in charge of a cleaning crew. The crew may be required to perform all maintenance jobs or specific jobs may be assigned to individuals based on experience and expertise.
The job of a building cleaner or her crew traditionally includes basic janitorial functions. These include sweeping, vacuuming and mopping floors, emptying trash, and cleaning restrooms. Dusting furniture and fixtures and cleaning windows and mirrors are typically part of the job as well. If outdoor maintenance is part of the contract, she is commonly required to cut grass, trim shrubs, water landscaping and keep the exterior free of trash and debris.
A building cleaner normally contracts a monthly, semi-annual or annual service agreement with the owner or manager of the building or complex. The contract customarily contains very specific terms regarding the areas to be cleaned as well as the frequency of the service. The contract typically specifies if the cleaner is responsible for maintaining and cleaning only the building interior or the grounds and landscaping as well.
Other terms regularly covered in the maintenance contract concern the environmental safety of the cleaning materials being used and special considerations for cleaning delicate surfaces and materials. Periodic in-depth cleaning projects, such as air duct cleaning, shampooing carpets or stripping and refinishing floors, are frequently included in the contract terms. If the premises include clean room environments or laboratories, specific guidelines for maintaining these areas generally are included.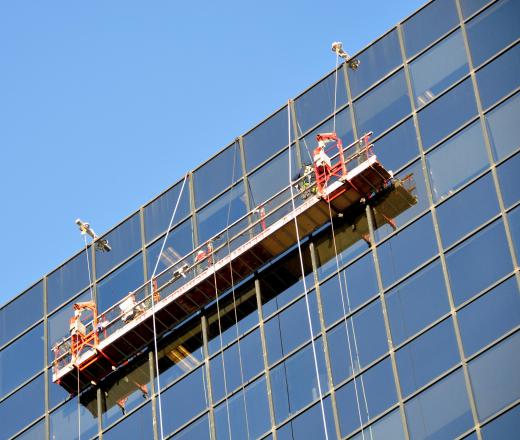 In some circumstances, the scope of the building cleaner's responsibilities extends to include building maintenance. She may be required to monitor the performance of electrical and plumbing systems and perform minor repairs on them. Adjusting heating and cooling systems to levels prescribed by the owner or manage may be part of her job.
Being physically fit, able to move furniture and operate heavy cleaning equipment, such as floor polishers and wax applicators, are typical requirements to be successful in this position. In addition, a building cleaner is ordinarily required to have a thorough knowledge of chemical cleaning solutions and how to safely use them. Good communication skills are normally required to effectively manage her crew and inform management of problems that require the attention of more experienced professionals.
A high school diploma or equivalent is normally required to be a building cleaner. Experience in a commercial or industrial maintenance environment is usually considered an asset. Knowledge of safely using chemical compounds is generally a plus.
AS FEATURED ON:
AS FEATURED ON:
By: gustoledo

The job of a building cleaner typically involves standard janitorial services.

By: mikkolem

A building cleaner is responsible for maintaining areas of a public building.

By: Jeff

The exterior of a building must be occasionally cleaned.

By: Photobank

Cleaning windows and exterior fixtures are among jobs done by building cleaners.