What is a Calibration Technician?
A calibration technician is in charge of controlling, repairing and maintaining machines and equipment, usually in a production or manufacturing environment. She is not referred to as an engineer, but the education and expertise required to excel as a calibration technician are significant. Regardless of the industry, each time the mechanical processes or electronic instruments are upgraded or replaced, she is required to upgrade her knowledge and skills to properly maintain and calibrate them. Some calibration technicians work exclusively in-house, and others primarily perform their work at customer sites.
The main job duties of a calibration technician require a mastery of testing and calibrating tools, such as oscilloscopes, calipers, pressure gauges, and temperature controllers. Knowledge of international ISO standards is required, along with a good understanding of electricity and electrical circuitry. The ability to set up test equipment and troubleshoot components is required, and technicians can also be expected to prepare service reports and accurately document parts replacement and repair.
In addition to technical expertise, communication skills are important attributes for a calibration technician. In-house technicians are required to effectively communicate with department managers and plant or manufacturing personnel to identify and resolve equipment and machine problems. Technicians who travel to customer sites to perform calibration and repairs need to effectively correspond with clients to analyze situations and advise on preventive maintenance options. Both types of technicians benefit from good vendor relations.
Calibration technicians can find work in a variety of environments. Large plants or manufacturing facilities may employ one or more full-time calibration technicians. Parts vendors often hire calibration technicians to market and sell their products based on the technicians' knowledge of the parts, applications and testing procedures. Third party maintenance firms who contract their services with a variety of small to large manufacturing companies employ general calibration technicians as well as those who specialize in the maintenance and repair of specific product lines.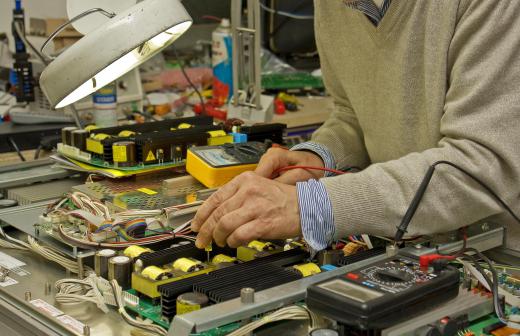 Some calibration technician jobs only require a high school diploma or equivalent and provide on the job training. Other positions require an associate's degree in instrumentation or electronic technology or two years of solid experience in electrical or mechanical calibration and repair. Applicable degrees are offered by some trade schools, technical training institutes or junior colleges. Additional certifications in specific areas of calibration technology are offered by some schools. Industry organizations sometimes offer seminars and courses to keep calibration technicians informed of new technologies and equipment they may be required to maintain or repair.
AS FEATURED ON:
AS FEATURED ON:
By: motorlka

Calibration technicians must be familiar with oscilloscopes.

By: likephotoman

A calibration technician tests and calibrates tools, such as pressure gauges.

By: Sergio Di Giovanni

A calibration technician must be a master of testing and calibrating tools.

By: uwimages

Large manufacturing facilities often employ one or more full-time calibration technicians.

By: Lisa F. Young

Industry organizations often offer seminars and courses to keep calibration technicians informed of new technologies and equipment.

By: Kadmy

A calibration technician may be responsible for performing maintenance and calibration on manufacturing equipment.

By: science photo

Some technicians' work is focused on calibrating lab equipment.

By: Maurizio Targhetta

Some calibration technicians may monitor, repair and adjust computer numerical control industrial machinery.